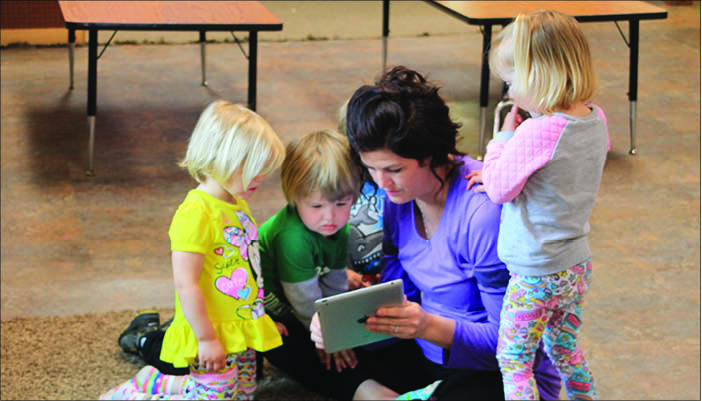 The new director at Bright Start Daycare and Preschool has some fresh ideas for its future. Jenna Vanden Bosch explained that not everything needs to be changed. Her goal is to "just change some things up a little bit, get a little more structure."
When Lisa Poppemaresigned as director and went to work at her husband's business, she offered her employee the position. Vanden Bosch though it sounded interesting. 
Being a director forced Vanden Bosch to become a "Jill of all trades," managing staff, doing schedules, getting parents' bills ready and paying invoices. She's learning new programs, handling hiring, making sure parents are paying, and the paperwork is up-to-date according to state guidelines. "I have a great assistant, Kelsi Van Leeuwen. She comes into the office on Wednesdays," Vanden Bosch explained.
In addition to all that, Vanden Bosch also cooks four days a week and teaches in the 2- and 3-year-old room a couple days a week. She manages about 14 full- and part-time employees. The daycare is registered for 50 kids and is usually near capacity.
The daycare is split into four rooms — a baby room, a 1-year room, a 2- and 3-year room, and 4-year and up room. An uptown location houses the 3-year-old preschool and after-school program. One of Vanden Bosch's goals "is to really focus on getting a routine in each room." She'd like to see more structure and hopes to set up a schedule of activities at specific times to benefit the kids.
As a nonprofit, the goal is not to make money but just to be sustainable. After bills and employees are paid, anything leftover goes to craft supplies, toys and routine maintenance of the building. Fundraisers provide the rest of the funding. Vanden Bosch will put together the fundraisers with the Bright Start board helping her. "I enjoy it. I love the fundraising part of it," she said. She enjoys connecting with the families and the community at these events.
Vanden Bosch is busy after hours taking some online classes to certify her as a daycare director. However, she explained, "I got this position by years of experience and classes I had taken over the past five and a half years." Vanden Bosch also attended Dordt College before switching over to massage therapy and cosmetology. She got into daycare when she and her family moved back to Hull from Sioux Falls and she started working at a Rock Valley daycare. "Kids have always been my passion." She explained she also babysat for many years.
Her passion for the kids is her top priority. "The kids are what come first. Their needs come first and that's really my focus. The paperwork can wait," she said, smiling.
Vanden Bosch feels it's important to let her staff know they're appreciated. Employees never had a break room before and Vanden Bosch "made" one for them. Now there's a place to go to make a phone call or get a few minutes of peace and quiet.
Another challenge she faces is building and keeping good staff. "It's not just playing. You need to get to know the kids on a personal level," she explained. "It's teaching them and letting them learn by playing."
She's thoroughly enjoying the position so far. She feels the best part of the job is definitely the kids! She loves getting hugs and smiles from them. "That's the goal here, to help the kids learn and grow," she said.