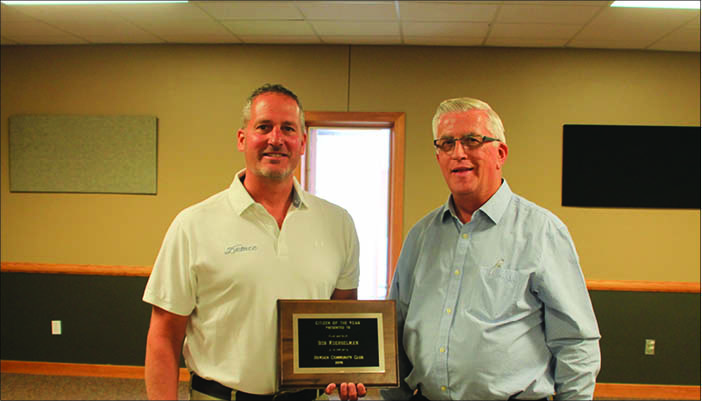 The 2017 spring luncheon was Wednesday, May 10 at noon. Boyden citizens were invited to attend the event sponsored by the Boyden Community Club.
President of the club, Kevin Ten Haken, welcomed everyone to the luncheon. Opening prayer and devotions were given by Pastor Mark Lund of St. John Lutheran Church of Boyden. A catered meal, by Melissa Beyer, followed.
Dennis Brunsting presented a plaque to Bob Koerselman, who was chosen as the 2016 Citizen of the Year. Koerselman is a lifelong Boyden resident. He is married with three children and the family has hosted a student from South Sudan the last six years. Koerselman is a joint owner of Demco Manufacturing. Throughout his lifetime, he's served on the Otter Valley Country Club board in several capacities, including president. He served on the Boyden Foundation and is an active city council member. With Koerselman's unique gift of seeing a need in the community, he takes a hands-on approach to helping. He gets right in there and gives of his own time and resources to help Boyden be a better place for everyone.
On behalf of the Boyden Community Club, Kevin Ten Haken presented the Student Scholarship Award to Dustin Fykstra. Dustin is the son of Jason and Misty Fykstra of Boyden. He is currently involved in Fellowship of Christian Athletes, and is a student role model on the STORM Team. Fykstra is also treasurer of the student council. He belongs to the National Honor Society and has also sung in the Northwest Iowa Honor Choir, show choir and several ensembles. He has accompanied on piano at many concerts, along with playing piano for the jazz band. He attends the Boyden Youth Group. He's involved in local activities by being an EMT for both the Boyden and Hull Ambulance Departments. He will use the scholarship toward obtaining his pre-medical education.
The awards ceremony was followed by a presentation on a new residential project, Centennial Park Revitalization project update and an overview of the 2017 Boyden Bash.