Hilmore Kroese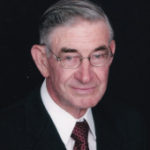 85
Hull, Iowa
December 7, 2018
Hilmore Kroese, 85, of Hull, Iowa, passed away Friday, Dec. 7, 2018, at Sioux Center Health.
Funeral service was Tuesday, Dec. 11, at First Reformed Church, Hull, with interment in Hope Cemetery, Hull.
Hilmore was born Sept. 10, 1933, near Hull, the son of Ivan and Alberta (Brummel) Kroese. He was raised on farms in the Hull-Middleburg area. He attended a country school, Hull Christian School and Western Christian High School in Hull. He then served in the U.S. Army as part of the military police.
On Sept. 10, 1953, he married LaVonne Van Den Oever. They made their home in Hull where he was a carpenter. In 1979, he started Kroese Construction in partnership with his son, David. In semi-retirement, he was custodian at Aspen Heights Assisted Living in Hull.
Survivors include his wife; two sons, David (Kay) of Hull and Darrel (Karla) of Orange City, Iowa; seven grandchildren; eight great-grandchildren; brothers, sisters and brothers- and sisters-in-law, Gerald and Harriet Kroese, Jo Ludema, Agnes Kroese, Belle and Ken Draayer, Joanne Boeve and Evelyn Rens.
He was preceded in death by his parents; an infant granddaughter; brothers, sisters and brothers- and sisters-in-law, Hendrene Kroese, Al and Eleanor Kroese, Ken Ludema, Irvin Kroese, John and Claretta Mulder, Gertrude and Herman Vander Vliet, Jean and Russ Vander Zwaag, Cynthia and Ralph Oostra, Henrietta and George Wassenaar, Catherine and John Elmer De Wit, Wilmina and Anthony Smit, Donald Boeve and Marv Rens.