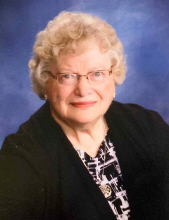 Henrietta Dykstra
89
Hull, Iowa
March 8, 2019
Henrietta Dykstra, 89, of Hull, Iowa, died March 8, 2019, at Western Home Community, Cedar Falls, Iowa. 
Family visitation will be Thursday, March 14, from 6-8 p.m. at First Reformed Church, Hull. Funeral service will be Friday, March 15, at 10:30 a.m. at First Reformed Church with interment in Hope Cemetery, Hull. 
Henrietta "Henny" Scholten was born Dec. 31, 1929, near Boyden, Iowa, to Jan and Ella (Hillegien Diekevers) Scholten. She was educated at Hull Christian Grammar School, Western Christian High School and attended Calvin College. She worked as a switchboard operator for the telephone companies in Sheldon and Hull. 
On Aug. 16, 1951, she married Leroy Dykstra. They lived in Columbia, South Carolina, where her husband was in the service. While he was stationed in Germany for a year, she returned home and contined to work as a switchboard operator. When her husband returned home from the Army, the couple began faming. In 1991, the couple moved to Hull while continuing to farm. Her husband died in 2011. She moved to Aspen Heights as one of its first residents and continued to farm with her daughters and a nephew. In 2016 she moved to Western Home Communities in Cedar Falls. 
Survivors include three daughters, Janna (Steven) Smith of Whitewater, Wisconsin, Lynn (Andrew) Davis of Chicago, Illinois, and Beth (Brian) Van Meeteren of Cedar Falls; nine grandchildren; three great-grandchildren; her sister, Betty Van Tubergen of George, Iowa; Leroy's sisters, Elizabeth DeVos of Hull and Marlene (Clarence) Van't Hul of Canton, South Dakota; and many nieces and nephews. 
She was preceded in death by her parents; her husband; her son, Lee; her siblings and their spouses, Jeanette and John Sybesma, Grada and John Vander Lugt, John and Berendina Scholten, Edgar Van Tubergen, and George and Clara Scholten; and Leroy's siblings and their spouses, Joel and Tracy Dykstra, Donald and Anna Mae Dykstra, and Cornie DeVos.