Helena Van Ravenswaay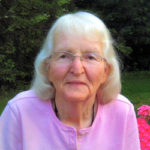 88
Sioux Center, Iowa
October 15, 2018
Helena Van Ravenswaay, 88, of Sioux Center, Iowa, died Monday, Oct. 15, 2018, at Whispering Heights Care Center, Rock Valley, Iowa.
Funeral services were Friday, Oct. 19, at Netherlands Reformed Church, Sioux Center, with interment in Memory Gardens Cemetery, Sioux Center.
Helena Elizabeth Vander Boon was born Oct. 9, 1930, in Ada, Michigan, to John and Mary (Vander Waal) Vander Boon. She attended country school through eighth grade. The family moved to Rock Valley when she was a young woman.
On Feb. 8, 1954, she married Adrian Van Ravenswaay. The couple made their home on a farm near Sioux Center. Two years after her husband passed away in 2007, she moved to Hull, Iowa, where she resided until moving to Whispering Heights in Rock Valley last year.
Survivors include four daughters, Dianne Van Ravenswaay of Minneapolis, Minnesota, Marilyn (Greg) Peter of Tyler, Minnesota, JoAnn (Willis) Groeneweg of Corsica, South Dakota, and Esther Van Ravenswaay of Hull; two sons, Norman (Sherry) Van Ravenswaay of Rock Valley and Lyle (Mary) Van Ravenswaay of Hull; 21 grandchildren; 12 great-grandchildren; three brothers, Orie, John and Abe Vander Boon, and four sisters: Pauline Groen, Ann Vlastuin, Marie Rozeboom and Connie Brown.
She was preceded in death by her parents, her husband and four sisters, Sarah Key, Sybil Van Veldhuizen, Ada Rozeboom and Joey Vander Boon.