Harm Oltmans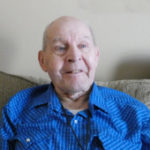 90
Sheldon, Iowa
October 31, 2018
Harm Oltmans, 90, of Sheldon, Iowa, passed away Wednesday, Oct. 31, 2018, at Fieldcrest Assisted Living in Sheldon.
Funeral service was Monday, Nov. 5, at St. Paul Lutheran Church, Sheldon, with interment in St. Paul Lutheran Cemetery, Hull, Iowa.
Harm John Oltmans was born Sept. 11, 1928, in Windom, Minnesota, the son of Harm John and Sarah Alice (Riddle) Oltmans. He received his education in the Windom and the Wilder, Minnesota, area. He also attended one year of high school in Sheldon.
On Feb. 22, 1951, he married Joann Rons. They farmed from 1952-1963. He then worked at different jobs including Sioux Steel Manufacturing, Hull Creamery and Hull and Boyden Co-op gas stations as a mechanic and bulk propane driver before retiring in 1990. His wife passed away Dec. 27, 2017.
Survivors include three daughters, Diane (Don) Martin of Ocala, Florida, Donna (Gary) Petitt of Sheldon and Darla (Dwight) Jacobs of Spirit Lake, Iowa; two sons, Darwin (Kandi) Oltmans of Orange City, Iowa, and Dale (Lora) Oltmans of Alton, Iowa; daughter-in-law, Shirley (Dean) Domeyer of Ellsworth, Minnesota; 13 grandchildren; 20 great-grandchildren, and other relatives and friends.
He was preceded in death by his wife; his parents; a son, Daryl Oltmans; a grandson; six brothers, Fletcher, Tom, George, John, Ed and Walt, and three sisters, Marge, Nancy and Mable.