Grace Van Hill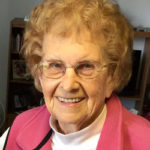 90
Rock Valley, Iowa
November 18, 2018
Grace Van Hill, 90, of Rock Valley, Iowa, died Sunday, Nov. 18, 2018, at Hegg Health Center, Rock Valley.
Private funeral services were Saturday, Nov. 24, with interment in Sheridan Township Cemetery, Boyden, Iowa.
Grace Van Grootheest was born Jan. 8, 1928, at Inwood, Iowa, daughter of Henry and Gertie (Roozenboom) Van Grootheest.
On Oct. 17, 1951, she married Donald Van Hill. The couple lived at Rock Valley, Alvord and Doon, Iowa, until 1975 when they moved to Boyden. They farmed southwest of Boyden 13 years until moving back to Rock Valley in July 2001. Her husband died June 26, 2002.
Survivors include three children, Harlan (Paula) Van Hill of Sioux Falls, South Dakota, Darrel Van Hill of Rock Valley and Diana (Jay) Van Ravenswaay of Orange City, Iowa; four grandchildren; three great-grandchildren; sister, Betty Piscitello of North Ridge, California; brother-in-law, Hans Van Roekel of Doon; sister-in-law, Christina Kroon of Rock Rapids, and several nieces and nephews.
She was preceded in death by her parents; two sisters, Tena Van Muyden and Wilma Van Roekel; and her father- and mother-in-law, Gilbert and Christine Van Hill.