Grace Dykstra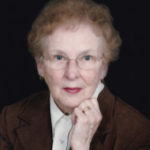 94
Hull, Iowa
Nov. 23, 2018
Grace Dykstra, 94, of Hull, Iowa, passed away Friday, Nov. 23, 2018, at Pleasant Acres Care Center, Hull.
Funeral services were Monday, Nov. 26, at Oolman Funeral Home, Hull, with interment in Hope Cemetery, Hull.
Grace Hendrene was born Jan. 12, 1924, in Sanborn, Iowa, the daughter of John and Jane (Vande Hoef) Leusink. She was raised in Matlock, Iowa, and attended public schools in Matlock and Hull.
On March 24, 1948, she married Peter Dykstra. They made their home in Hull where she was a homemaker. For 20 years she also worked part-time at The Foreign Candy Company in Hull. Survivors include two daughters, Laine Dykstra of Sioux Center, Iowa, and Nancy Runquist of Lovilia, Texas; two sons, Timothy (June) Dykstra of Sioux Center and John (Donna) Dykstra of Hull; five grandchildren; two great-grandchildren; and a sister, Margaret Krommendyk of Cherokee, Iowa.
She was preceded in death by her husband; infant daughter, Jennifer; three grandsons and two brothers, Gary Leusink and Gene Leusink.