Gilbert Schelling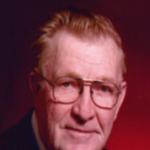 91
Orange City, Iowa
Oct. 19, 2019
Gilbert Schelling, 91, of Orange City, Iowa, died Saturday, Oct. 19, 2019, at Pleasant Acres Care Center in Hull, Iowa. 
Funeral services will be at 10 a.m. Friday, Oct. 25, at Netherlands Reformed Church, Sioux Center, Iowa, interment in Memory Garden Cemetery, Sioux Center. Visitation with family present will be Thursday, Oct. 24, from 6:30-8 p.m. at Memorial Funeral Home of Sioux Center. 
Gilbert Schelling was born July 29, 1928, in Sioux County, Iowa, to Rochus and Jennie (Harskamp) Schelling. He grew up on a farm and attended country school. After his education he worked for area farmers as a hired hand. 
On Jan. 11, 1950 he married Wilma Vander Schaaf. They made their home on a farm near Hudson, South Dakota, before moving to a farm near Sioux Center. 
Survivors include his children, Shirley (Abe) Den Hoed of Hull, Robert (Sharon) Schelling of Sioux Center, Harlan (Jane) Schelling of Orange City, Lois (Enno) Haan of Sioux Center, Marvin (Kathy) Schelling of Orange City and Karen (Bud) Kuiken of Hartford, South Dakota; 25 grandchildren; 58 great-grandchildren; a brother, John (LaVonne) Schelling of Sioux Center; three sisters, Henrietta Knibbe of Sioux Center, Jeane Zomer of Rock Valley and Joane Zomer of Sioux Center; and other extended family.
He was preceded in death by his wife; his parents; brothers, Cornelius (Gertrude) Schelling, Jan, John and William; sisters, Alida (Edward) Ymker, Emma (Gerrit) Roskam and infant Fredrika; brothers-in-law, Klaas Knibbe, Cornie Zomer and Herman Zomer, and an infant child.