Gertrude Van Roekel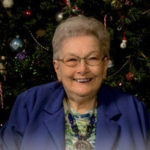 86
Rock Rapids, Iowa
October 3, 2018
Gertrude "Gert" Van Roekel, 86, of Rock Rapids, Iowa, died Thursday, Oct. 4, 2018, at Rock Rapids Health Centre.
Funeral service will be Tuesday, Oct. 9, at First Reformed Church, Rock Rapids.
Gertrude De Vries was born Jan. 16, 1932, in Larchwood, Iowa, daughter of Oscar and Martha (Tilstra) De Vries. She graduated from Inwood High School.
She married Arie Kiel and they lived in the Alvord, Iowa, area 37 years. After Arie's death, she married Abe J. Van Roekel in 1988. They lived in Boyden, Iowa. She worked at Valley Manor in Rock Valley 15 years. She moved into Fieldcrest Assisted Living in Sheldon, Iowa, in 2009. After having a stroke in 2016 she moved to a nursing home.
Survivors include her children, Ardis (Kevin) Berkery of Burbank, California, Barb (Glen) Arends of Lester, Iowa, Char (Rick) LaFrenz of Foley, Minnesota, Laurine (Don) Gerritsen of Rock Rapids and Russell (Vicki) Kiel of Alvord, Iowa; 10 grandchildren; 15 great-grandchildren; stepchildren, Myrna (Marvin) Van't Hul of Hull, Iowa, and Audrey Hoftyzer of Boyden; siblings, Arlene Kooistra of Hills, Minnesota, David (Linda) De Vries of Alvord, Oscar (Lori) De Vries of Sioux Falls, South Dakota, and Joyce (John) Tracy of Marionville, Missouri.
She was preceded in death by her parents; stepmother, Gertrude De Vries; husbands and daughter, Julie Kiel.