Gertrude Huisman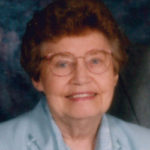 96
Rock Valley, Iowa
November 5, 2018
Gertrude Huisman, 96, of Rock Valley, Iowa, passed away Monday, Nov. 5, 2018, at Whispering Heights, Rock Valley.
Memorial services were Thursday, Nov. 8, at First Reformed Church, Rock Valley, with interment in Valley View Cemetery, Rock Valley.
Gertrude Wallenburg was born Jan. 17, 1922, near Rock Rapids, Iowa, daughter of Ring and Winnie (Harskamp) Wallenburg.
On Dec. 17, 1946, she married Matthew Huisman. The couple farmed near Rock Valley. She sold Avon and Tupperware. Her husband died Nov. 22, 2006. On Feb. 11, 2008, she moved to Whispering Heights in Rock Valley.
Survivors include four children, Winova (Roger) Van Regenmorter of Orange City, Iowa, Marjorie "Mick" (Darrel) Van Regenmorter of Orange City, Deanna (Kenneth) DeWit of Hull, Iowa, and Milinda (Loren) Leloux of Rock Valley; 11 grandchildren; 31 great-grandchildren, and sister, Christine Kersbergen of Rock Valley.
She was preceded in death by her husband; one grandson and her parents.