Gary Wissink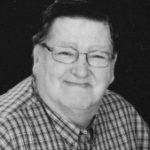 75
Hull, Iowa
May 20, 2019
Gary Wissink, 75, of Hull, Iowa, passed away Monday, May 20, 2019, at Sioux Center Health.
Memorial service was Friday, May 24, at American Reformed Church, Hull, with interment in Hope Cemetery, Hull. 
Gary was born Sept. 12, 1943, in Bellflower, California, the son of Jacob and Alice (Vanden Bosch) Wissink. In 1945, the family moved to Melvin, Iowa. In 1948, they moved to Sheldon, Iowa, where he graduated from a Christian school. He held a variety of occupations, including 20 years at Vink Furniture and five years at Drenkow Motors, both in Sheldon. In 1988, he moved to Hull.
On Oct. 6, 1989, he married Minerva Bonestroo. They lived in Hull.
Survivors include his wife; his sister, Elsie Wissink of Sheldon; his mother-in-law, Anne Bonestroo, of Okoboji, Iowa; his sister-in-law, Vera (James) Verdoorn of Hull; three nieces and many cousins.
He was preceded in death by his parents.