Frieda Smit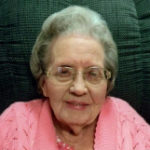 100
Boyden, Iowa
October 2, 2018
Frieda Smit, 100, of Boyden, Iowa, passed away Tuesday, Oct. 2, 2018, at Hawkeye Care Center, Spirit Lake, Iowa.
Funeral service was Saturday, Oct. 6, at First Reformed Church, Boyden, with interment in Sheridan Township Cemetery, Boyden.
Frieda Houtsma was born April 22, 1918, at Boyden, the daughter of Neal and Jennie (Jacobsma) Houtsma. She received her education in Boyden schools.
On Dec.19, 1935, she married Raymond Smit. They lived in Boyden where they operated Smit & Son Packing Co. The couple retired in 1974. Her husband passed away May 18, 1993. Frieda remained in Boyden until her health failed and she moved to Fieldcrest Assisted Living in Sheldon, Iowa. She later moved to Hawkeye Care Center in Spirit Lake.
Survivors include her daughter Janice Sneller of Boyden; four grandchildren; 10 great-grandchildren; eight great-great-grandchildren; one sister, Dorothy (Dale) Merrill of Sheldon, and other relatives and friends.
She was preceded in death by her husband; a daughter, Sherry Stephens; son-in-law, Scott Sneller; three brothers, Hank, Cyril and Jim Houtsma, and one sister, Mabel Hulst.