Florence Kroese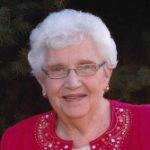 85
Hull, Iowa
May 6, 2019
Florence Kroese, 85, of Hull, Iowa, passed away Monday, May 6, 2019, at Pleasant Acres Care Center, Hull.
Funeral service was Friday, May 10, at First Christian Reformed Church, Hull, with interment in Hope Cemetery, Hull. 
Florence Ruth Wissink was born Aug. 22, 1933, in Middleburg, Iowa, the daughter of Henry and Gertrude (Schuurmann) Wissink. She was raised on a farm near Middleburg and attended the country school. She graduated from Western Christian High School in Hull in 1950.
On Nov.12, 1953, she married Albert John Kroese. They farmed between Boyden and Hull until 1985 when they moved into Hull. She was a school teacher in a country school for a short time, but worked most of her life as a homemaker and helped on the farm. Her husband passed away July 7, 2008.
Survivors include three children, Carol (Hank) Vande Kraats of Winnipeg, Manitoba, Canada; Jay (Lydia) Kroese of Plymouth, Minnesota, and Emily (James) Lund of Escondido, California; a daughter-in-law, Sandy (Gary) Westra of Hull; 13 grandchildren; 13 great-grandchildren; a sister, Gladys (Harry) Link, of McAllen, Texas; two brothers, Sherman (Goldene) Wissink of Sioux Center and John Wissink of Michigan, and a sister-in-law, Johanna Westra of Hull.
In addition to her parents and husband, she was preceded in death by a son, Kevin Kroese; a sister, Bernice (Tom) Mulder, and two brothers-in-law, James (Janet) Kroese and Sid Westra.