Evelyn Dykstra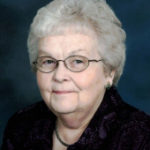 91
Byron Center, Michigan
December 28, 2018
Evelyn May Dykstra, 91, passed away Friday, Dec. 28, 2018, at Byron Center Manor, Byron Center, Michigan.
Funeral service was Saturday, Jan. 5, at Hope Christian Reformed Church, Hull, Iowa, with interment in Hope Cemetery, Hull.
Evelyn Brown was born May 26, 1927, near Aledo, Illinois, to Felix and Leanna (Bradford) Brown. She graduated from Aledo High School and attended Iowa State University in Ames, Iowa, and Sterling College in Sterling, Kansas.
On June 18, 1947, she married Allan Dykstra. The couple served churches in New Jersey, Indiana, Michigan and Iowa. After her husband's death Jan. 9, 1993, she moved to Homestead in Hull. For the past three years, she has lived in Michigan.
Survivors include three children, Barbara (Duane) Nieuwsma of Byron Center, Daniel (Sharon) Dykstra of Sioux City, Iowa, and Timothy (Melinda) Dykstra of Acworth, Georgia; a son-in-law, Stanley Starkenburg of Palmyra, New York; 10 grandchildren and six great-grandchildren.
She was preceded in death by her husband; parents; a daughter, Patricia Starkenburg, and a brother, Kenneth (Mary) Brown.