Elmer Behrens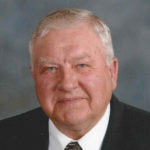 83
Sheldon, Iowa
December 21, 2018
Elmer M. Behrens, 83, of Sheldon, Iowa passed away Friday, Dec. 21, 2018, at Sanford Sheldon Medical Center in Sheldon.
Funeral service was Monday, Dec. 24, at St. Paul Lutheran Church, Sheldon, with interment in St. Paul Lutheran Cemetery, Hull, Iowa.
Elmer Martin Behrens was born May 24, 1935, near George, Iowa, son of August and Marie (Woelber) Behrens. He attended country school near George and graduated from George High School. He attended Wartburg College in Waverly, Iowa, and then graduated from Iowa State University in Ames, Iowa. He served in the U.S. Army from 1955-1957.
On June 19, 1960, he married Pauline DeVries. The couple lived in Collins, Boyden, Sheldon, Carroll and Bondurant, Iowa, and Hills and Marshall, Minnesota. He worked in sales for Land O' Lakes 30 years, a sales manager for Farm Credit Services two years and as a real estate agent for ARI in Sheldon 17 years, retiring in 2003. His wife passed away March 17, 1997.
Survivors include two children, Ross Behrens of Creswell, Oregon, and Kathy Jo Sigmund of Redfield, Iowa; a son-in-law, Jeffrey Sigmund of Dudley, North Carolina; two grandsons; a brother, William (Ruth) Behrens of Westminster, Colorado; three sisters, Verna (Robert) Sohl of Mt. Pleasant, South Carolina, Wilma (Don) Ransom of Sheldon and Betty Schisel of Mankato, Minnesota; two sisters-in-law, Helen and Miriam Behrens, both of George, and many other relatives, nieces and nephews.
He was preceded in death by his wife; his parents; four brothers, Arnold, Harley, Walter and Vernon; a sister, Frances, and a brother-in-law, Don Schisel.