Eileen Klootwyk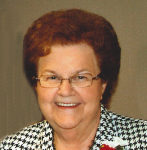 83
Sheldon, Iowa
March 28, 2019
Eileen Mae Klootwyk, 83, of Sheldon, Iowa, passed away Thursday, March 28, 2019, at Sanford Sheldon Medical Center in Sheldon.
Memorial service was Tuesday, April 2, at Netherlands Reformed Church, Sioux Center, Iowa, with interment in East Lawn Cemetery, Sheldon. 
Eileen Mae Klootwyk was born April 27, 1935, in Rock Valley, Iowa, the daughter of Maass and Tillie (Driesen) Maassen. She grew up in Rock Valley and received her education in a country school. After school, she worked in a grocery store in Rock Valley. 
On Sept. 30, 1953, she married John Klootwyk. The couple lived in Rock Valley before moving to Sheldon in 1957. She helped her husband in the locker plant and, for the past 36 years, has been an Avon sales representative. After her husband's death Oct. 23, 2014, she remained in her home until entering Sanford Sheldon Medical Center. 
Survivors include her children, Twyla (Ron) Smit of Sheldon, Glenda (Marlon) Klein of Sheldon, Jeri (Ken) Hoogendoorn of Boyden, Iowa, Mike (Leann) Klootwyk of Orange City, Iowa, and Jodi (Ron) Koerner of Brookings, South Dakota; 13 grandchildren; 22 great-grandchildren; two sisters, Fran (Jake) Rus of Rock Valley and Sally Koedam of Sheldon; a sister-in-law, Joan Maassen of Rock Valley; and many other relatives and friends. 
She was preceded in death by her husband; her parents; a brother, Ray Maassen, and a brother-in-law, Andy Koedam.