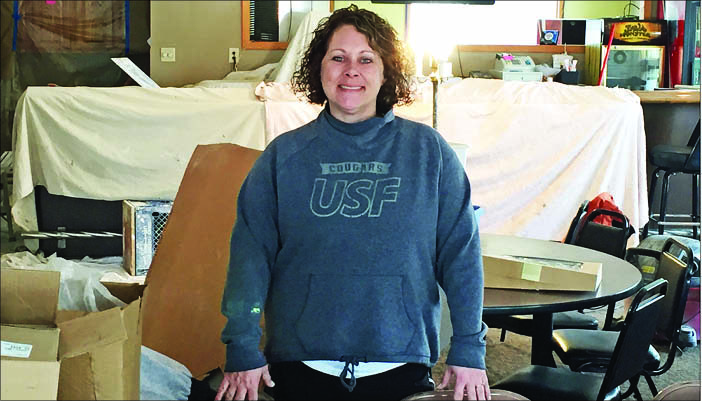 With the first day of spring only a few days away, Varya Dykstra is doing her best to lure more than just golfers to the Rolling Hills clubhouse.
As the newly-hired clubhouse manager, Dykstra is trying to schedule events, create community support and give the inside of the building a facelift.
"I have a passion for Rolling Hills," she stated. "I want it to succeed so the next generation can come out here and play golf and bring their kids and give them the golfing bug.
"I want people to realize that this clubhouse is available to use," she added. "We have a very nice facility with a large outdoor deck. It can be used for birthdays, anniversaries, graduation parties, class reunions and other gatherings. It's a great place for families. And it's one of the few places to gather in Hull."
Last weekend, Dykstra applied a fresh coat of paint to the clubhouse. She's also been cleaning and organizing. "I am kind of a clean freak," she admitted.
Fortunately, she's getting help from her family.
She's married to Lon Dykstra, who grew up in Hull and is employed at Art's Electric. The couple has three sons — Logan, a junior at the University of Sioux Falls, Mason, a recent Boyden-Hull graduate who works for B & M Construction, and Gavin, a freshman at Boyden-Hull.
They've been in and out of the Hull community since 1995. "When we lived in Minnesota, our children wanted to be back here," said Dykstra. "Hull will always be home to them. Sioux County may have its quirks but, all in all, it's a good place to live; a good community."
The 45-year-old is also a member of the Rolling Hills golf board and she knows how challenging it is to find someone to manage the clubhouse.
"I saw this job opening as an opportunity for me," Dykstra explained. "Two of our boys are out of the house and on their own and I was ready for a change. I understand how difficult it is to find help just for maybe six or seven months of the year. The job seemed like a good fit for me. I want Rolling Hills to be successful."
In addition to spring cleaning, Dykstra is hiring help for the clubhouse and she's looking at the possibility of offering food.
"I would like to offer food in the future, but first we have to check out regulations and get our kitchen in shape," she explained. "We're taking baby steps."
The clubhouse is getting spruced up before two events next week. "March 17 is St. Patrick's Day and I'd like to invite the community out to Rolling Hills, so we can pretend that we're Irish," Dykstra laughed. "And the clubhouse is rented out on the 18th. I would also like to have it open for The Final Four. Of course, I have to add 'weather permitting' to each event."
Anyone wanting to rent the facility can call the clubhouse, 439-2310, or contact Shelly at the Hull Chamber office.
"The golf course and clubhouse will be opening soon and I want to invite people to stop out and visit, even if they don't play golf," exclaimed Dykstra. "I hope the community will come to Rolling Hills and support us."