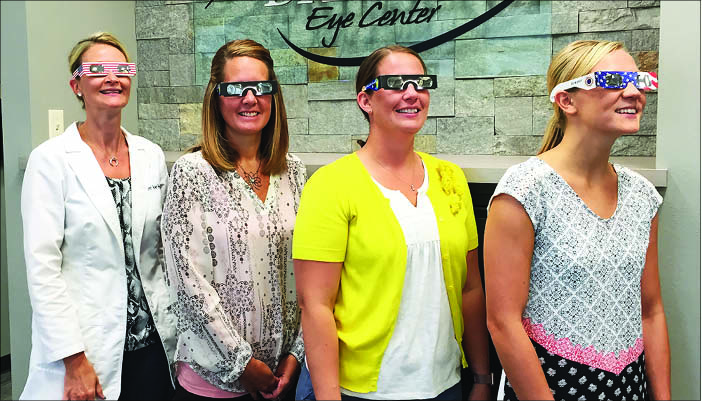 When the total solar eclipse makes its way across the United States Monday, Aug. 21, for the first time in almost 100 years, there's a way to watch the event without damaging your eyes.
Since it's not safe to look directly into the sun, Driesen Eye Center in Hull is offering solar glasses to view the eclipse.
"This is a fun and exciting event and we want to make sure our patients protect their eyes," said Dr. Sherri Ver Hoef, Driesen Eye Center optometrist.
The business is offering solar glasses, or eclipse glasses, free with an eye exam from Aug. 1-21 or they can be purchased for $1 each. The glasses are hundreds of times stronger than sunglasses.
A solar eclipse occurs when the moon passes between the earth and sun, either totally or partly obscuring the image of the sun. On Aug. 21, a solar eclipse will be visible (weather permitting) across all of North America. The whole continent will experience a partial eclipse lasting two to three hours. The path of the total eclipse stretches from Oregon to South Carolina.
Sioux County is not in the "path of totality" but will experience 93 percent of a total eclipse, which means that 93 percent of the sun's diameter will be eclipsed by the moon. This partial eclipse will occur between 11:30 a.m. and 2:30 p.m. The peak time is predicted to be at 1 p.m.
You'll need to wear solar glasses in order to look at the sun in northwest Iowa.
"Also, be sure not to look at the sun through an unfiltered camera, telescope or binoculars," added Ver Hoef. "Solar rays can cause serious damage to your eyes."
The last total eclipse to cross the U.S. from coast to coast was on June 8, 1918. The last total eclipse to touch a portion of the U.S. mainland was Feb. 26, 1979.