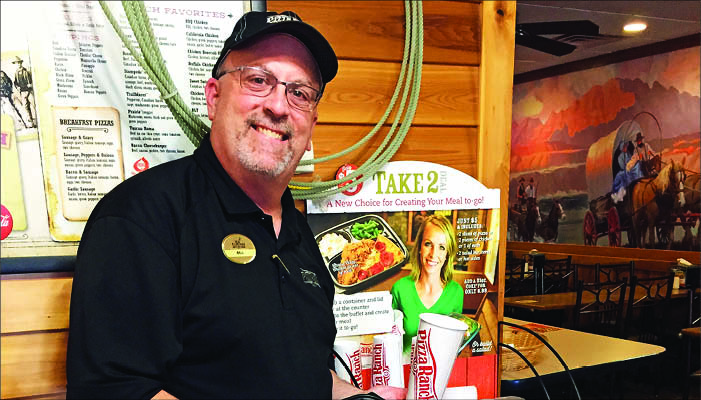 As new general manager of Hull Pizza Ranch, Bill Dreise is exactly where he wants to be. He and his wife, Darci, have lived and worked in a lot of different communities but Sioux County was always home.
"The people here are good people," said Dreise with a smile. "And I have grandchildren in Sioux Center and Rock Valley."

The 57-year-old grew up in Michigan and graduated from Dordt College in 1982 with a degree in education. He taught band and choir 34 years in Michigan, Prinsburg and Edgerton, Minnesota, Sioux Center Christian and Bradenton Christian School in Bradenton, Florida. He also took a three-year break from teaching to try other jobs.

"I like to work," he admitted

The process of moving from Florida to northwest Iowa was simple and quick, according to Dreise. After he was hired by Pizza Ranch, his house sold in one day, Darci found a job at Perspective Insurance in Sioux Center in two days and they found a house in Sioux Center in four days.

"It was truly a God thing," stated Dreise. "The Lord made it happen and it feels like coming home.

"But one us was going to have to drive to work, so I decided it would be me. That's why we're living in Sioux Center," he added.

He's been working at Hull Pizza Ranch two weeks and is happy in his new job.

"Pizza Ranch is a great organization to work for," said Dreise. "They care about customers and employees and have a really godly vision for both. I've been very impressed."

"I already know a lot of folks in Hull and I'm looking forward to meeting everyone," he added. "As a former teacher I'm excited about partnering with the schools to teach about healthy food and to help them with fundraising."