Dorothy Wynia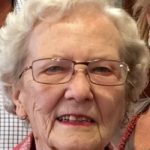 97
Story City, Iowa
May 17, 2018
Dorothy Ann Wynia, 97, of Story City, Iowa, passed away May 17, 2018, at Bethany Manor, Story City.
Memorial services were Saturday, July 7, at Our Savior's Lutheran Church, Rock Valley, with interment in Valley View Cemetery, Rock Valley.
Dorothy "Dot" DeValois was born Oct. 10, 1922, near Boyden to Edgar and Anna (Scholten) DeValois. She grew up in Boyden and graduated from Boyden High School. She attended Hope College in Holland, Michigan, two years. She taught elementary school in Estherville, Iowa, two years and then in Rock Valley two years.
On June 4, 1947, she married Charles Wynia. They lived on the Drake University campus while pursuing degrees. She taught in Madrid and Johnston, Iowa, while finishing her bachelor of arts degree, graduating in January 1949. They lived in several communities in Iowa before returning to Rock Valley in 1956. After retiring from teaching, she volunteered in the community. Two years ago she moved to Timberland Village in Story City. She recently moved to Bethany Manor.
Survivors include four children, JoAnn Slater of Adel, Iowa, Tom (Mary) Wynia of Story City, Jean (Craig) Stoermer of Wayzata, Minnesota, and Karen (Joe) Hamilton of Shawnee, Kansas; 10 grandchildren; 12 great-grandchildren and one sister, Merry (Hal) Wissink.
She was preceded in death by her husband; son-in-law, Jerry Slater, and sister, Harriet (Earl) Warne.