Dorothy McCormack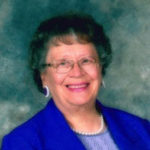 91
Rock Rapids, Iowa
October 8, 2018
Dorothy McCormack, 91, of Rock Rapids, Iowa, died Monday, Oct. 8, 2018, at Lyon Specialty Care, Rock Rapids.
Funeral service was Saturday, Oct. 13, at United Methodist Church, Rock Rapids, with interment in Riverview Cemetery, Rock Rapids.
Dorothy Tiedeman was born Jan. 15, 1927, near Hull, Iowa, daughter of John and Emma (Lutjens) Tiedeman. She attended country school through the spring of 1938 before moving to Rock Rapids. She graduated from Wilson High School in 1944. She moved to Washington, D.C., where she worked in the document section typing pool of the FBI. She returned to Rock Rapids in 1945 and worked at Federal Land Bank/Production Credit offices until the winter of 1946 when she was hospitalized with polio for six weeks.
On May 6, 1947, she married Herbert McCormack and was bookkeeper for his transportation business.
She served on the city council from 1970-1977, Merrill Pioneer Community Hospital Association Board and Mural Society of Rock Rapids.
Survivors include two daughters, Kathryn McCormack of Omaha, Nebraska, and Marie Schmidt of Rock Rapids; a son, Marian (Linda) McCormack of Rock Rapids; a granddaughter; four great-grandchildren and many nieces and nephews.
She was preceded in death by her parents; husband; son, Marvin; two sisters, Bertha Anderson and Lorie Etta Thompson, and four brothers, Berend, Walter, Ferd and Hubert.