Dorothy Dykstra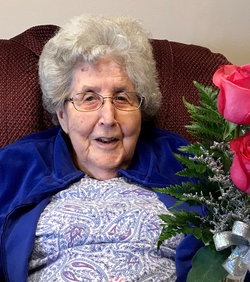 94
Sioux Center, Iowa
June 10, 2018
Dorothy Dykstra, 94, of Sioux Center, Iowa, died Sunday, June 10, 2018 at Sioux Center Health, in Sioux Center.
Funeral services were Friday, June 15, at First Reformed Church, Sioux Center, with interment in Memory Gardens, Sioux Center.
Dorothy Mae De Zeeuw was born June 9, 1924, in Sioux Center, Iowa, daughter of John and Gerritdena (Hubers) DeZeeuw. She grew up in Sioux Center and graduated from Sioux Center High School in 1941. After high school, she worked as a bookkeeper and receptionist at Wandscheer Manufacturing.
On Feb. 16, 1949, she married Reinard Dykstra. They made their home in and around Sioux Center.  She worked as the receptionist and bookkeeper for Schouten Plumbing and Heating. After retiring, she volunteered many years as a foster grandparent and math classroom assistant, both in Rock Valley and Sioux Center Community Schools. She was named to the Iowa Volunteer Hall of Fame in 2009. She moved to Franken Manor in Sioux Center in January 2012 and to Royale Meadows in June 2017.
Survivors include her children, Bruce (Lorene) Dykstra of Ventura, Iowa, Muriel (the Rev. David) Loveall of Sheldon, Iowa, the Rev. Roger (Kathi) Dykstra of North Liberty, Iowa, Lora (Roger) TeSlaa of Inwood, Iowa, and Gary (Laura) Dykstra of Libertyville, Illinois; eight grandchildren; five great-grandchildren; her sister, Mary Jean Wynja; and her brother, John De Zeeuw.
She was preceded in death by her parents; her husband; three stillborn infants; brother-in-law and sister-in-law.