Donald Drenth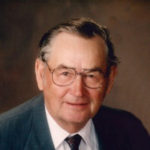 96
Adrian, Minnesota
December 12, 2018
Donald E. Drenth, 96 of Adrian, Minnesota, passed away Wednesday, Dec. 12, 2018, at Ava's Hospice House, Sioux Falls, South Dakota.
Memorial service was Saturday, Dec. 15, at Bethel Reformed Church, rural Little Rock, Iowa, with interment in the church cemetery.
Donald Earl Drenth was born . 10, 1922, near Boyden, Iowa, the son of Alex and Anna (Brommer) Drenth. When he was young, the family moved to Santa Anna, California. His family later moved back to Boyden and then lived on various farms in the Adrian and Ellsworth areas. He received his education at a country school near Ellsworth.
On Dec. 18, 1946, he married Alma De Boer. They farmed in the Ellsworth and Adrian areas. His wife died Feb. 15, 2016. He became a resident of Parkview Manor in Ellsworth Nov. 8, 2016.
Survivors include two daughters, Pam (Kevin) Nelson of Wilmar, Minnesota, and Sherri Halvorson of Morgan, Minnesota; seven grandchildren; nine great-grandchildren; one sister, Louise Noll of Luverne, Minnesota; three brothers, Harold Drenth of Arkansas, Orville "Whitey" Drenth of Rock Rapids, Iowa, and Stan (Jeri) Drenth of Sioux Falls; several brothers-in-law, sisters-in-law and numerous nieces, nephews and cousins.
He was preceded in death by his parents, his wife and brother, Irvin Drenth.