Dick W. Keizer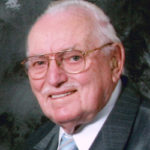 97
Doon, Iowa
November 12, 2018
Dick W. Keizer, 97, of Doon, Iowa, died Monday, Nov. 12, 2018, at Hegg Health Center, Rock Valley, Iowa.
Funeral services were Saturday, Nov. 17, at Doon First Reformed Church with interment in Hillside Cemetery, Doon.
Dick William Keizer was born Oct. 1, 1921, in Lyon County, Iowa, to Joe and Jennie (Hommes) Keizer. He lived near Hull, Iowa and Doon. He spent three and one-half years in the Army Air Corps during World War II.
On Oct. 1, 1948, he married Theo Niemeyer. They lived on a farm near Hull before moving to a farm north of Doon. They moved into the town of Doon in 1970. He worked as a janitor in the Central Lyon School in Doon and at Kooima Co. in Rock Valley before retiring.
Survivors include his wife; one son, John (Sharon) Keizer of Hull; three daughters, Wanda (Kent) Van't Hul of Cedar Grove, Wisconsin, Janice (Lonnie) Johnson of Doon and Rosetta (Randy) Van Engen of Doon; 11 grandchildren; 27 great-grandchildren; one great-great-granddaughter; sister, Fenna Winter of Rock Valley; brother, Jim Keizer of Doon, and three sisters-in-law, Jen Keizer of Sheldon, Iowa, Helene Niemeyer of Doon and Samantha Niemeyer of George, Iowa.
He was preceded in death by his parents; two brothers, John Keizer and Bill Keizer; four brothers-in-law, Fritz Winter, Gerrit Niemeyer, Bill Niemeyer and Henry Niemeyer; and three sisters-in-law, Hester Niemeyer, Grace Keizer and Pat Keizer.