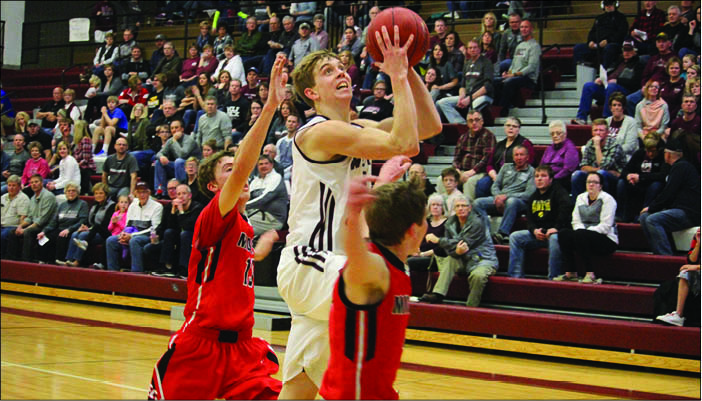 HULL-Class 2A top-ranked Western Christian came out with an aggressive game plan on defense and that aggressive defense led to a strong offensive output in a 74-41 Class 2A District 2 boys' basketball tournament victory over Estherville-Lincoln Central Thursday.
The Wolfpack forced the Midgets into 25 turnovers and it did not take long for Western Christian to turn those giveaways into points on the other end of the floor. The Wolfpack took an 18-8 lead after the first quarter and held a 37-19 advantage at halftime.
Western Christian's intensity never let up in the second half of play, outscoring Estherville-Lincoln Central 37-22 in the final 16 minutes to punch its ticket to the district final against West Lyon Tuesday, Feb. 21 in LeMars.
"The guys were excited to get out and play again. It has been a week since we last played (due to a first-round bye). And to start tournament time on our home court was very exciting and rewarding," said Wolfpack coach Bill Harmsen. "I thought our guys played hard tonight. We were able to string together defensive possessions and convert on the offensive end. I was happy with our defensive pressure, turning Estherville-Lincoln Central over 24 times."
Harmsen hopes his team's play carries over into the district final.
"This was a great game to get our tournament trail started. I was pleased with our focus, energy and intensity and we feel great about advancing to play a very good West Lyon team next Tuesday at LeMars," he said.
Western Christian went 27-of-51 from the field for 53 percent and was 7-of-22 for 32 percent from the 3-point line. The Wolfpack also shot 13-of-21 for 62 percent from the free-throw line.
Individual statistics
Points:Jesse Jansma 15, Tyson Kooima 12, Ben Gesink 11, Jacob Vis 11
Rebounds:Ben Granstra 7, Tyson Kooima 5, Jesse Jansma 4, Jacob Vis 4, Brennan Moss 4
Assists:Tyson Kooima 4, Ben Granstra 4, Jacob Vis 3, Ben Gesink 2
Steals:Ben Gesink 5, Jacob Vis 5, Tyson Kooima 3, Ben Granstra 2
Blocks:Jesse Jansma 1, Jacob Vis 1