Clarence Van Voorst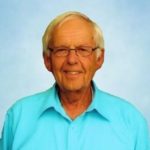 76
Hull, Iowa
April 3, 2019
Clarence Van Voorst, 76, of Hull, Iowa, died April 3, 2019, at Sioux Center Health, Sioux Center, Iowa. 
Funeral service was Saturday, April 6, at Carmel Reformed Church, Carmel, Iowa, with interment in Carmel Cemetery. 
Clarence Van Voorst was born Aug. 21, 1942, in Sioux Center to Henry and Gertie (Fluit) Van Voorst. He was grew up on a farm north of Carmel and attended Hull School through eighth grade. At age 16, his father died and he assumed responsibilities of the family farm. 
On Feb. 13, 1961, he married Carol Sandbulte. Throughout their early married life, they lived in Carmel, Sioux Center and Boyden and he began working in the construction industry.  In 1962, he started his own concrete business. In 1969, the couple moved to west of Perkins, Iowa. The concrete business continued operating until relocating to its current place of operation in Hull. 
Survivors include his wife; daughters, Melinda Nibbelink of Orange City, Iowa, and Minerva (Richard) Kooiker of Middleburg, Iowa; sons, Marlin (Paula) Van Voorst of Hull and Mark (Kristi) Van Voorst of Hull; daughter, Misty (Tom) Zwart of Hull; 24 grandchildren; 20 great-grandchildren; his siblings, Jeanette (John) Van Ginkel of Rock Valley, Iowa,Tunis (Jacqi) Van Voorst of Custer, South Dakota, Henry (Judy) Van Voorst of Sioux Falls, South Dakota, Cynthia Amick of Jefferson City, Missouri, Mary Driesen of Rock Valley, Joann Driesen of Sioux Center and Ruth (Jake) Anker of Chilliwack, British Columbia; sisters-in-law, Carrie Van Voorst of Fairview, South Dakota, Joyce Van Voorst of Sioux Falls and Shirley Van Voorst of Rock Valley; and numerous nieces and nephews. 
He was preceded in death by his parents; infant son, Chad Van Voorst; son-in-law, Terry Nibbelink; and three brothers, Jake, Gerald and John Van Voorst.