Christina Velgersdyk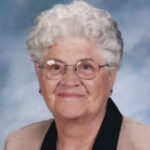 86
Rock Valley, Iowa
September 23, 2018
Christina Velgersdyk, 86, of Rock Valley, Iowa, passed away Sunday, Sept. 23, 2018, at Good Samaritan Society, George, Iowa.
Funeral service was Monday, Oct. 1, at First Christian Reformed Church, Rock Valley, with interment in Memory Gardens Cemetery, Sioux Center.
Christina Eerkhoorn was born Oct. 1, 1931, in Sioux Center, the daughter of Arthur and Henrietta (Vander Grift) Eerkhoorn. She was raised in Sioux Center, attended Sioux Center Christian School, and graduated from Western Christian High School in Hull.
On Dec. 21, 1951, she married Harvey Velgersdyk. They lived in Inwood, Iowa, until they retired and moved to Rock Valley. Her husband passed away Dec. 5, 1999, in Rock Valley. In August 2017, she moved to the Aspen Heights Assisted Living in Hull. On July 18, 2018, she transferred to Good Samaritan Society in George. She was a homemaker and a Stanley product distributor. She worked at the West Lyon Herald newspaper as an assistant in the office and laying out ads. She was also a clerk at Pember Drug Store and Main Street Antiques in Rock Valley.
Survivors include four children, Jerome Velgersdyk of Rock Valley, Cheryl (Henry) Kats of Hull, Iowa, Loren (Kathy) Velgersdyk of Sioux Falls, South Dakota, and Vonda (Jim) Sterk of Lynden, Washington; 12 grandchildren and seven great-grandchildren.
She was preceded in death by her husband; infant twins, Marlo and Marla; an infant brother and a sister and her husband, Jeanette and Wilbur Draayer.