Charles Vaandrager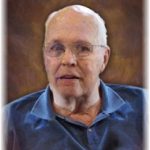 87
Sheldon, Iowa
Aug. 18, 2018
Charles "Chuck" Vaandrager, 87, of Sheldon, Iowa, passed away Saturday, Aug. 18, 2018, at Sanford Sheldon Medical Center.
Funeral services were Tuesday, Aug. 21, at First Christian Reformed Church, Sheldon, with interment in East Lawn Cemetery, Sheldon.
Charles "Chuck" Cornelius Vaandrager was born Feb. 9, 1931, in Sheldon, to Cornelius and Pearl (Rienstra) Vaandrager. He lived his youth in rural Sheldon where he attended country school. He later attended and graduated from Sheldon Christian Grade School and Western Christian High School in Hull. Beginning in 1952, Charles served in the U.S. Army two years.
On Aug. 16, 1963, he married Kathryn Anema. The couple lived in Sheldon where he was an accountant for Big 4 and then transferred to Fort Dodge, where he continued in accounting. They moved to Worthington, Minnesota, where he was the assistant manager for the Co-op Elevator. In 1977, he became the general manager for the Farmers Co-op Association in Boyden where he worked 18 years before retiring and moving back to Sheldon.
Survivors include his wife; four children, Debra (Mark) Van't Hul, Connie (Arlo) Heynen, Mark (Rochelle) Vaandrager and David (Brenda) Vaandrager; 12 grandchildren; three great-grandchildren and four sisters, Evelyn Beimers, Cynthia (Don) Hanenburg, Leona Broers and Glenda Vaandrager.