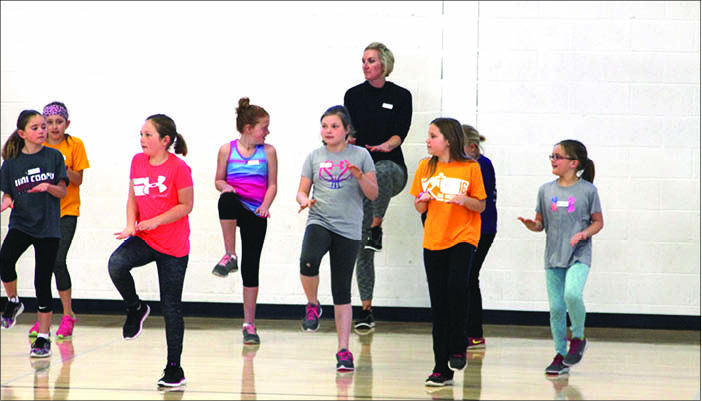 Through the efforts of the Healthy Hull planning group, there's a new program in town called Girls On The Run. The 10-week after-school program involves fifth-grade girls with the idea of educating and preparing them for a lifetime of self-respect and healthy living.
Girls On The Run stems from EmBe, a program through the woman's YMCA in Sioux Falls thatEmpowers You ToBe.
A total 30 girls gather twice a week in Hull for a healthy snack, a lesson, and stretches, warm-ups and a workout. Lessons are based on positive thinking, being a good friend, making healthy decisions, standing up for oneself, gossiping and bullying issues, healthy eating and and other topics. The girls work together to achieve their goals and feel good about that accomplishment.
When the weather allows, they'll be running outside, but until then they'll be doing laps in the gym.
Jacinda Zoet has been helping with the local Girls On The Run. She feels the program is important. "Girls need to know and believe that they are so much more than looks. Who they are on the inside is what makes them the person they are," Zoet explained.
She decided to become a coach because she loves being active and wants to encourage others to be physically active too. "This program focuses on the whole person, inner strength, and being confident," Zoet explained. "There may be some girls that can't run or would prefer not to run, so I can encourage and participate with them in some alternative ways to exercise."
Shelly Van Otterloo, Hull Chamber director, mentioned there was interest in the Girls On The Run program last year but the timing wasn't right to get it started in Hull until now.
"It's a nice way to get the girls from the whole community together," Van Otterloo said, "and we have 12 volunteer coaches who have signed up to give of their time to help." Several local sponsors gave donations to help fund the program.
The end goal is for the girls to participate in a non-competitive Girls On The Run 5K run/walk event Saturday, May 20, at the University of Sioux Falls. All those participating in Girls On The Run across the Sioux Empire are invited to participate.