Brenda Van Engen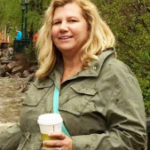 56
Orange City, Iowa
October 27, 2018
Brenda Van Engen, 56, of Orange City, Iowa, passed away Saturday, Oct. 27, 2018, at Prairie Ridge Care Center, Orange City, after suffering from corticobasal syndrome.
Memorial service was Thursday, Nov. 1, at Immanuel Christian Reformed Church, Orange City, with interment in West Lawn Cemetery, Orange City.
Brenda Jean Burggraaf was born March 27, 1962, in Rock Valley, Iowa, the daughter of William and Geneva (Statema) Burggraaf. She grew up Rock Valley where she attended a Christian school. She graduated from Western Christian High School in Hull, where she met her future husband, Douglas Gene Van Engen.
On Sept. 11, 1981, she married Doug Van Engen. They lived in Rock Valley  two years before moving to Sioux Center and eventually Orange City. She worked at Wal-Mart, painted crafts for a friend, and made salads for the Towne House.
Survivors include her husband; two daughters and a son, Larissa (Joel) Van Dyke, Danielle (Dan) Kuiken and Dylan Van Engen, all of Orange City; five grandchildren; her parents; four siblings, Les (Kim) Burggraaf of Rock Valley, Sharon (Paul) De Groot of St. Louis, Missouri, Audrey (Doug) Broek of Ireton, Iowa, and Harlan (Sara) Burggraaf, of Omaha, Nebraska; Doug's three siblings and their spouses, Floyd and Mary Van Engen of Minneapolis, Minnesota, Bob (Jo) Van Engen of Valley Springs, South Dakota, and Marlys (Jay) Vander Pol of Redmond, Washington, and a sister-in-law, Jan Van Engen of Willmar, Minnesota.
She was preceded in death by her parents-in-law, Harvey and Nell Van Engen; a brother in infancy, Rodney Burggraaf, and a brother-in-law, Brian Van Engen.