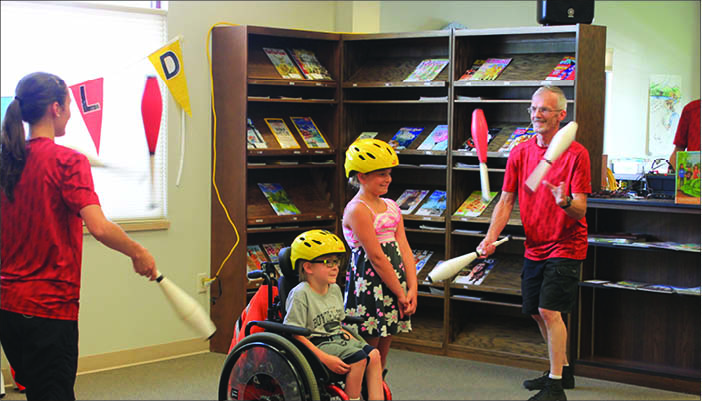 On Tuesday, June 6, the "Build a Better World" summer reading program was kicked off at Boyden Public Library. The Hanson Family provided an exciting opening with their juggling and unicycle acts.
The family involved local children in fun, interactive activities and their presentation represented the theme well. They showed kids how easy it is to clean up an area, such as a city park, when everyone gets together and pitches in to help. The work gets done quickly and the cleaned area looks great.
Shari Fedders, Boyden's head librarian, told the kids about the fun coming up in the month of June. Each person at Tuesday's program received a bag with the Build a Better World logo printed on it. Each bag contained several goodies. A calendar that tells about all the events for the month, and a yellow sheet explains how each reader can enter a contest by building something at home. The bag also included a summer reading log readers can use to keep track of the books they've read.
Fedders asked each of the children in attendance to autograph a hard hat she will use for decoration at the library.
The first week of the program included some indoor and outdoor activities, story times and a movie. On Thursday, June 15, at 3:15 p.m. Haley Pullman from Oak Grove will present a program.
On Tuesday, June 20, there will be indoor and outdoor activities for 4-year-olds through first grade. On June 22 the indoor and outdoor activities will be for second-fourth graders.
Lego Fun comes to the library June 27 and 28at 1 p.m. Sign up at the library so there's enough room and Legos for everyone!
The Summer Reading Program's finale will be at 3:15 p.m. June 29 and will include entertainment by Magician Jonathan. Again, all ages are welcome.