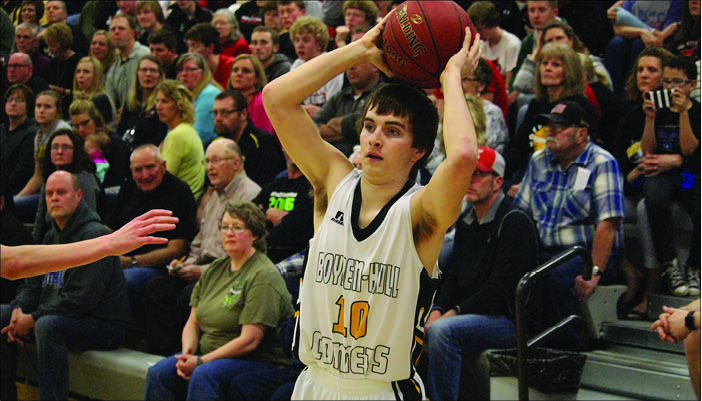 Boyden-Hull was dominant on both sides of the ball Tuesday night, Feb. 21, and the Comets' strong performance resulted in a 61-42 victory over South O'Brien and a trip to the Class 1A District 2 final.
Boyden-Hull went up early and never looked back. The Comets held the Wolverines to just 2 points in the first quarter and only nine9 in the first half.
The Comets hit their stride on offense as the game transitioned into the second quarter. Boyden-Hull put up 22 points in the quarter and led 32-9 at the half.
Coach Bill Francis was able to mix in some of his bench players throughout the second half, as the Comets maintained a lead of more than 20 points for most of the game. Nine different Boyden-Hull players scored points, and three of those players made it into double figures.
Overall, the Comets made 27-of-48 shots for an impressive shooting percentage of 56. They were just 1-of-6 from the 3-point range and went 6-of-13 from the free-throw line.
The Comets improved to 16-7 with the victory, which was their fourth in a row and 11th in their last 12 games. They set themselves up for a contest against George-Little Rock in the Class 1A District 2 final, a game that was originally scheduled for Thursday, Feb. 23 in Sheldon, but was postponed to Saturday, Feb. 25 due to inclement weather.
Individual statistics
Points:Jacob Schafer 16, Shane Solberg 11, Marcus Rens 10, Mitchell Diekevers 9, Keyton Moser 5, Alex Frick 4, Hunter Koolstra 2, Kyle Baartman 2, Zach Noble 2
Rebounds:Shane Solberg 12, Mitchell Diekevers 4, Alex Frick 4, Jacob Schafer 3, Marcus Rens 2, Zach Noble 2, Kyle Baartman 1, Logan Brunsting 1
Assists:Shane Solberg 4, Mitchell Diekevers 3, Kyle Baartman 2, Keyton Moser 2, Marcus Rens 1, Logan Brunsting 1
Steals:None
Blocks:None
Comets advance to sub-state with a 57-36 win over Mustangs
LEMARS-Boyden-Hull had its best defensive effort of the season in its Class 1A District 2 boys' basketball tournament game with George-Little Rock Saturday and it did not take long for the Comets to punch their ticket to the Class 1A Sub-state 1 game in a 57-36 victory.
This game was moved from Thursday due to a snowstorm. Boyden-Hull's defense held George-Little Rock to 37 percent shooting from the floor and a 5-of-19 for 26 percent from the 3-point line. That defense was on display in the first half as the Comets claimed a 22-10 lead after the first quarter and a 32-16 lead at halftime.
"We did a great job of playing team defense. It was the best defense we've had all year where all five guys were working together. They just did a tremendous job," said Boyden-Hull coach Bill Francis.
The Mustangs, however, were able to make a run at the Comets to start the second half, shrinking the lead to 10 at 43-33 for the final period of play. But Boyden-Hull's defense still proved to be too much, allowing the Comets' offense to go on a 14-3 run in the fourth quarter and seal the game.
"Our defense always leads to offense for us. Even if we don't get a layup, it just helps us get up and down the court," Francis said. "Our kids also enjoy shutting the other team down. Our defense is the biggest part of our game, especially at tournament time."
The win sent Boyden-Hull to the Class 1A Sub-state 1 game against 23-0 Remsen-St. Mary's Monday, Feb. 27, in Sheldon (again due to the snow storm Thursday). Francis said the task will be tough, but he believes the Comets are up to the challenge.
"We feel good. We really think that we're playing our best basketball of the year right now. We're playing well as a group and that's what we need at this time of year," Francis said.
Shane Solberg led Boyden-Hull in scoring with 14. Zach Noble had 11 and Mitchell Diekevers had 10. No other stats were released at press deadline.