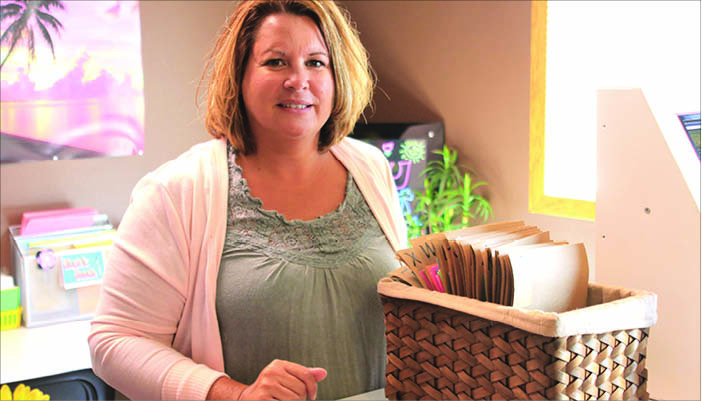 For Stephanie Bonestroo, owning Electric Beach is a perfect fit. But the new owner of the tanning salon in Hull had no idea it would be as much fun as it is. Bonestroo took over the business from Darren and Darla Van't Hul on June 1, 2017, after she and husband, Dean, were approached by the Van't Huls. "We talked about it and we thought, 'Yeah, why not? It's something to do'," Stephanie said. The stay-at-home mom decided the experience she gained from helping the previous owner would enable her to run the business.
The Bonestroos have three children — son Skylar, a freshman at Northwestern College; daughter Jaiden, a sophomore at Western Christian High School; and son Blake, a seventh grader at Hull Christian School.
With all three children in school, Stephanie has time to commit to the tanning clients of Electric Beach and feels tanning safely is important. She uses recommendations to suggest how long a client should tan and which package they should purchase according to skin type. "Those with fair skin need to work into tanning a little slower because they'll burn easily," she explained. When clients first sign up for a tanning package, Bonestroo writes the recommendation on a card used to track the number of tanning minutes use.
Electric Beach also offers two different types of tanning beds to give customers an option. The Turbo bed is a 12-minute, high-efficiency tanning bed. "It gives a good color fast," explained Stephanie. "It's a fast bed but it does get warm." The second bed is called the Retreat bed and is a 20-minute session with a different result. "It creates more like an outside tan. It goes more into your skin and actually the tan lasts longer," said Stephanie.
Another way Stephanie helps her customers tan safely is by monitoring the bulbs in the tanning beds. Each bed is different and uses specific bulbs. "Changing the bulbs is key to the way the beds tan," she explained. Because new bulbs are quite strong when first installed, Stephanie is sure to make her clients aware. "If we put new bulbs in I will post a sign that says 'new bulbs' because we don't want someone going their usual 20 or 12 minutes or they'll fry," she said. "We recommend they only go half as long as what they were going."
Keeping up with state and federal health and safety regulations is important to the safety of clients, too. The tanning salon is subject to state inspections where an inspector looks at the beds to see if anything needs to be fixed or changed. "We handle any of the recommendations promptly," said Stephanie.
Along with safe tanning, offering customers what they want as well as convenience are keycomponents of running a successful business for Stephanie. She carries tanning lotions and moisturizers for clients to purchase and use before and after tanning to help preserve the tan. A computerized system makes it easy to get in and out quickly. A credit card-type card stores information on the number of tanning minutes purchased and used. "You swipe the card when you come in, choose the bed you want and put in the amount of minutes you want to use," explained Stephanie. For Electric Beach clients who purchased tanning minutes when the Van't Huls owned the business, Stephanie is allowing them to use those minutes. "Their cards are good for a year," she said. She's also having gift certificates printed for customers to purchase whichever tanning package they want.
As she gears up for the busier time of year in the tanning business, the new owner at Electric Beach said she's enjoyed her venture so far. "I've met a lot of new people," Stephanie said, which she enjoys. "This is the right thing."