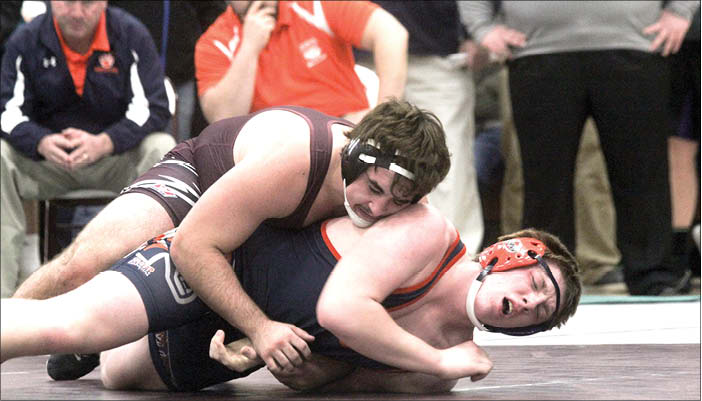 MILFORD-For the entire 2016-2017 season, Western Christian senior Skylar Bonestroo has had one thing on his mind: make a second-consecutive trip to the state wrestling tournament in Des Moines.
Only one step remained in attaining that goal — the Class 1A District 4 wrestling tournament hosted by Okoboji High School in Milford Saturday. Bonestroo got the job done by claiming first place at 220 pounds and earning his way back to the state wrestling tournament Thursday, Feb. 16 and Friday Feb. 19.
"It's awesome. I've been waiting for this all year," Bonestroo said. "I've been working all summer and all spring, just waiting for this moment."
Bonestroo began his day with a first-round match against John Schuttler of Mason Northwest-Webster. The Wolfpack grappler went right to the attack and took a 5-1 lead going into the third period. Schuttler had the choice to begin the period and took the down position. That decision quickly backfired as Bonestroo was able to flip Schuttler to his back for 3 near-fall points and an 8-1 advantage. Schuttler was able to escape, but was unable to do anything else against Bonestroo, sending the Western Christian wrestler to the championship match.
"You can't overlook anything, so I thought he did a really good job of getting after the attack right away," said Wolfpack coach Kyle Westra. "We knew what we were up against and we knew we had to get that first one."
The championship match proved to be a tough one with Erick Olvera of Sibley-Ocheyedan. The two grapplers met before during the regular season and this match was very similar to the first. In the first period, the two wrestlers circled the mat and got tied up with each other and no points were scored. Olvera won the second-period coin toss and chose the down position. Twenty-eight seconds later, Olvera worked his way out of Bonestroo's arms to score a point on an escape. The two wrestlers circled each other again, but could not get a shot off, and the second frame ended with a 1-0 score in favor of the General.
"He's a really good defensive wrestler. Every time I've wrestled him, I've had trouble getting shots on him. That's just how it goes against him sometimes," Bonestroo said about the first two periods.
In the third frame, Bonestroo had choice and he chose the down position. Eight seconds later, the Wolfpack grappler worked his way out from the bottom for 1 point to tie the score. Once again, the two wrestlers circled each other, but could not find a shot. With under 25 seconds remaining in regulation, Olvera got tired of waiting and gambled on a shot attempt. But Bonestroo was there to defend. He, in turn, took Olvera straight to his back for a 2-point takedown and 3 near-fall points as time expired.
"He (Olvera) tried to throw a shot and end it right there, but my hips were better than his. I then got him to his back and won it," Bonestroo said.
The senior wrestler now has his goals set high for the state tournament.
"I'm just going to go above what I did last year and, honestly, I want to be on the podium," he said. "I just want to wrestle as hard as I can, kick butt and take names."
In order to get on the podium in Des Moines, Westra said Bonestroo will have to muster up all of his talent.
"It's going to take what he has and it's going to take his determination to win," Westra said. "When you're at state you don't know much about the people you wrestle. So you have to go 110 percent and you have to really want it. I think he has all those things in him."