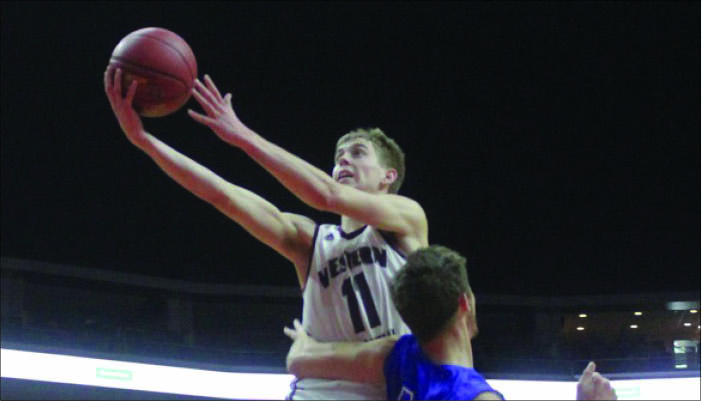 DES MOINES-Class 2A top-ranked Western Christian had a small lineup coming into the state tournament, but the group shrank even more when four players were suspended for the rest of the tournament. So the Wolfpack stressed team rebounding and being able to get out in transition during two days of practice prior to Thursday, March 9. Those two factors came out against Camanche in a 94-44 rout, sending Western Christian to a second-straight state title game.
The four players who were suspended for the rest of the week after violating team rules were Cade Broek, Tyson Kooima, Ben Granstra and Brennan Moss. With those players out, the Wolfpack went with a different starting lineup and rotation for the first time this season. Senior point guard Ben Gesink knew he had to help get Western Christian off to a good start. He did just that, scoring the first 5 points of the game. The Indians came right back with a 5-0 run aided by two free throws and a 3-pointer to tie the game at 5. But Gesink continued to be aggressive, getting a free throw and another shot from the post to increase the lead back to 3 at 8-5.
Gesink said the practice time and learning about Camanche's 2-3 zone helped him be aggressive early.
"It was definitely something we worked on in practice. The whole thing was starting the ball at the wings or the high post and just working from there. Then we would take it to the hole or dish it to whoever was open. That's all we've been practicing these past few days," the senior guard said.
The Wolfpack lead stayed within 3 points until the 3:30 mark when Western Christian found Jesse Jansma open on the wing for a 3-pointer. Twenty seconds later, Jansma found another open spot on the wing and drained another 3-pointer, increasing the Wolfpack advantage to 16-9. The Indians got 3 of those points back on a trey of their own, but three missed shots to end the quarter got Western Christian's transition game going. Jacob Vis hit a putback on a 2-on-1 fast break and Jansma hit two free throws and scored a layup. That 6-0 run gave the Wolfpack a 22-12 lead heading into the second quarter of play.
"We got out right away from the start. We were all playing with emotion, we were all playing with heart and we were all playing with a chip on our shoulder. When we play with a chip on our shoulder, we play really good and we are very tough to stop," Jansma said.
But Western Christian knew it had to keep that hot start going.
"It was huge getting out early and just knowing that we couldn't let up. Because if we let up at all in those second and third quarters, we knew they were going to come back with 3s," Gesink said.
The Wolfpack kept that momentum going, to say the least, as Western Christian began the second quarter with two steals that led to layups, on top of a transition 3 and two more transition layups off missed shots by the Indians, to spark an 11-0 run. Camanche called timeout to try and stop the Wolfpack run, but it did not help as Western Christian hit two more transition baskets to open up a 40-17 advantage. The Indians got a layup to stop the Wolfpack run, making the score 40-19, but that was all the closer Camanche got as Western Christian ended the half on an 8-4 run and a 48-23 lead at the break.
In addition to Gesink's play in the first half, Vis also provided an early spark with a double-double at 12 points and 10 rebounds after being put into the starting lineup. Vis said his team's play on the glass was what helped. Western Christian outrebounded the Indians 23-12 after the first 16 minutes of play.
"Coach told us that we had to be ready for long rebounds, so as I walked into the building all I focused on was rebounding. That was one of the main things I focused on today," Vis said. "Then I just tried to be myself, not to step up or try to do anything out of the ordinary that I couldn't (normally) do."
Coach Bill Harmsen said the speech at halftime, and for the entire game, was a simple one.
"The whole time we were talking about balance. We can't get too high and we can't get too low. We started the game on a real high, scoring 27 in the first quarter and I thought we put Camanche on their heels a little bit," coach Harmsen said. "Again, the whole time we were talking about balance. Not too high, not too low, but balance."
That balanced emotional focus carried throughout the second half, starting on the defensive end. The Indians only hit 7 out of its 21 attempts from the floor in the final 16 minutes and only hit 25 percent of their 3-point attempts. Individually, Camanche had four players averaging double-figure points, Dakota Soenksen, Cameron Soenksen, Dylan Hundley and Dev Patel. In the end, the Soenksen brothers finished with 14 points combined, Patel had 5 and Hundley had 12.
"Defensivley, we wanted to challenge the 3. Those two (Soenksen) brothers are fantastic basketball players. They are so quick off the dribble, plus they can shoot from 3," Harmsen said. "We just wanted to just contest and contain them as best we could. Our guys did a great job of that."
Adding to those numbers was how the Wolfpack ended the night on the boards. Western Christian grabbed 43 total rebounds compared to 19 for the Indians.
"Then after the shot, we did an excellent job rebounding. Outrebounding them 43-19, that's just outstanding. Our team has to do it by committee and I thought we did a real nice job of that tonight," Harmsen said.
Like the first half, those boards led to easy transition layups for the Wolfpack on the other end. Western Christian outscored Camanche 41-19 in the second half.
"Playing a team like this that shoots a lot of 3s, you know there are going to be a lot of long rebounds. Long rebounds, if you get them, means you can go," Gesink said. "That's why the main thing was rebounding. We outrebounded them 43-19. That's what won us the game right there."
The victory sent Western Christian to a second-straight state title game against Pella Christian.
"The guys just played a fantastic game today. Incredible effort, incredible heart, incredible guts and I'm happy for these guys," Harmsen said. "I was very happy with the guys being able to take care of the basketball against a team like that, only having eight turnovers. That's really a great thing. Our guys just executed very well."
The last time the Wolfpack faced the Eagles was in the 2015 state quarter-final and Pella Christian sent Western Christian home early that year in a 70-69 decision. To avoid a repeat defeat, Gesink said the strategy will be familiar.
"Once again it's going to take rebounding and effort. We don't have that true post, unless Layne (Miller) is in there. So rebounding is huge. Rebounding and effort. That's what we've been talking about all week," he said.
The Wolfpack went 34-of-56 from the field for 61 percent and were 9-of-20 for 45 percent from the 3-point line. Western Christian also went 17-of-23 for 74 percent from the free-throw line.
Individual statistics
Points:Jesse Jansma 27, Ben Gesink 24, Jacob Vis 16, Caleb Harmsen 9
Rebounds:Jacob Vis 15, Ben Gesink 9, Jesse Jansma 6
Assists:Ben Gesink 8, Caleb Harmsen 4
Steals:Caleb Harmsen 2, Ben Gesink 2
Blocks:none