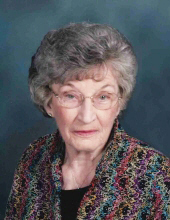 Bernice Fischer
95
Hull, Iowa
March 2, 2019
Bernice Fischer, 95, of Hull, Iowa, passed away Saturday, March 2, 2019, at Pleasant Acres Care Center, Hull. 
Funeral service was Thursday, March 7, at Oolman Funeral Home, Hull, with interment in Eureka Cemetery in Eureka, South Dakota. 
Bernice Meidinger was born Nov. 3, 1923, near Eureka to Albert and Martha (Neuharth) Meidinger. She went to school through eighth grade then learned the ins and outs of farming. She worked at Eureka Community Hospital a couple years. 
At age 22, she married Eugene Fischer. For two years they worked with Bernice's parents and eventually took over their farm. The couple farmed together 50-plus years. She also served as a hostess and waitress for three different restaurants in Eureka. In 2001, the couple moved to Hull. They were foster grandparents in the Boyden-Hull Community School District. 
Survivors include her children, David Fischer, Judy Olson and Debra (Sidney) Sandbulte; six grandchildren; two great-grandchildren; two sisters, Barbara (Jon) Lund and JoAnn (Jack) Weber, and a brother, Wayne (Diane) Meidinger. 
She was preceded in death by her parents; her husband; her brother, Mark Meidinger; three sisters, Elaine Serr, Florence Henningson and Marie Job; nine brothers-in-law; three sisters-in-law and a son-in-law, Wayne Olson.