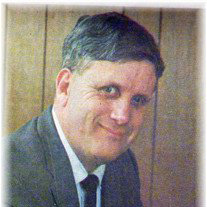 Bernard Boone
98
Sheldon, Iowa
February 2, 2019
Bernard L. Boone, 98, of Sheldon, Iowa, passed away Saturday, Feb. 2, 2019, at Sanford Sheldon Care Center.
Funeral services were Friday, Feb. 8, at Calvary Baptist Church, Sheldon, with interment in Newkirk Cemetery, Newkirk, Iowa.
Bernard "Bernie" Lloyd Boone was born June 21, 1920, near Boyden, Iowa, son of Evert and Fredrica (VanderZwaag) Boone. He spent his youth on farms in the Newkirk, Hospers and Boyden areas. He lost his sight in the fall of 1924 after suffering a case of measles and having a mastoidectomy. In January 1930, he began schooling at Iowa School for the Blind in Vinton, Iowa. During World War II, he worked at May's Drug and later Freuhauf Trailer Co. in Cedar Rapids, Iowa.
On October 5, 1946, he married Agatha "Geet" Rindone. After short stays with Agatha's parents in Council Bluffs, Iowa, and on Bernie's parents' farm near Boyden, they moved to Sheldon in 1949 and he began his piano tuning business. From 1972-1997, he also did tuning for Midwest Piano and Organ Co. in Spencer, Iowa. His wife died June 22, 2012. In May 2017, he moved to Sanford Sheldon Senior Care.
Survivors include three children, Audrey (Robert) Winter of Boyden, Daniel (Lisa) Boone of Omaha, Nebraska, and Timothy (Lissa) Boone of Belleville, Illinois; nine grandchildren; nine great-grandchildren; brother, Thel (Alma) Boone of Sheldon; brother-in-law, Paul (Obie) Rindone of Council Bluffs, and many other relatives and friends.
He was preceded in death by his wife; two infant children, Fredrica and David; his parents; sister, Audrey, and brothers, Erwin and Eugene.