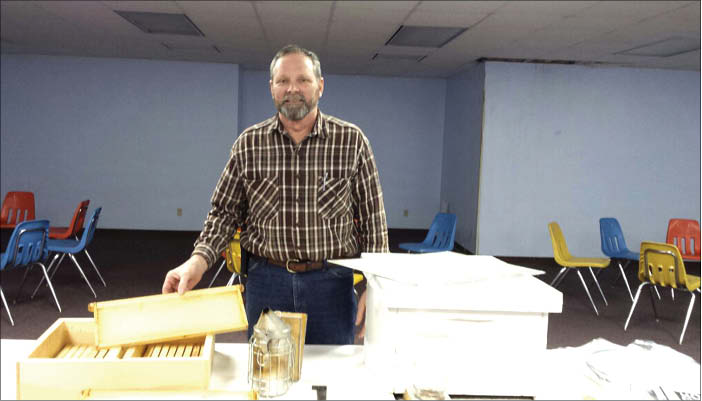 Beekeeper, Paul Van Roekel entertained Boyden Community Club members with his presentation Wednesday. Van Roekel is a "hobby" beekeeper and collects honey for his family's needs. "As local hobbyists, we're not making money; we're doing it for personal reasons," he explained.
Van Roekel's wife, Shirley, uses raw honey as a sugar substitute and for cooking. Bakers can substitute one-third cup of raw honey to one cup sugar. Honey keeps well and usually doesn't go bad. It will, however, crystallize, "but you can warm it and it will go right back to the liquid form," Van Roekel said.
Honey has a variety uses and raw honey's medicinal effect can help with allergies, build immunity, and aids a healthier, cleaner diet. It can also be used as a facial cleanser.
The Van Roekels wanted pure honey and decided to make their own when the man they bought honey from gave up beekeeping. Their farm on the edge of George provides an ideal location for beehives. Van Roekel found out, "It's more work than you think." The first year, he lost all of his bees. His second year went better and he added four hives. The honey supplied their family, which is about 10 to 15 gallons per year. This past year, his third year, went exceptionally well and he had extra honey.
Van Roekel purchased some of his equipment from another beekeeper who sold out. When working with bees there is also special protective equipment beekeepers wear. A smoker keeps the bees calm as the smoke interferes with the communication amongst the bees, so they just stop working and you can do what you need to do.
Just like livestock, Van Roekel indicated bees need to be fed correctly too. There are different feeders and different food options. It's important to be sure to leave enough honey for the bees to survive on throughout the winter too.
Bees are sensitive to certain chemicals and they need to be protected from aerial spraying. Hive locations should be registered so elevators and commercial applicators are able to contact the beekeeper when they'll be spraying. Otherwise, they can be fined for killing the bees.
Beehives can hold between 50,000-60,000 bees. The beehive is inside the brood box where the queen lays the eggs. In the summer, Van Roekel adds a medium-sized box that's easier to carry. The larger boxes hold 100 pounds of honey, whereas the medium boxes hold 50 to 60 pounds and are easier to move. The smaller boxes allow the bees to store extra honey. In a good year there could be five to six medium-size boxes added.
The honey is harvested yearly. To get the honey out of the box, Van Roekel takes a leaf blower and blows the bees off the extractor, which he takes inside and scrapes the honey off with a knife. He strains it through two screens to get all the wax out and puts the honey into jars. Only commercial sellers need to pasteurize honey.
The worker bees always make sure the queen bee is kept warm, between 80 and 90 degrees even in the winter. Boxes that are left outside for the winter have a warm interior. Some beekeepers move their boxes inside for the winter.
Bees only fly in sunny weather, never when it's cloudy or rainy. A queen bee, especially, needs several days of sunshine in order to mate effectively. She only leaves the hive once to mate with drones. When she returns, she'll lay over a thousand eggs a day and, within six to eight weeks, there are 50,000 eggs in the hive. After hatching, the worker bees only live six to eight weeks so the queen constantly replaces them. A good queen lasts up to about three years.
Bees usually collect pollen, from their nearest source, but can travel three to five miles if needed. They like clover, early spring flowers and especially dandelions. Some beekeepers plant more flowers to help bees make their honey. The pollen they collect is food for their colony of bees and it helps them make honey.
Not all honey looks or tastes the same. It all depends on what plants the bees pollinated. "There's a lot of trial and error," Van Roekel said.
The bee population is dwindling because they're being killed by diseases, and pesticides and chemicals. The plants bees normally pollinated are hard to find, such as milkweeds, wild roses. This is detrimental because the bees need these sources to survive and make honey. Beekeepers encourage Conservation Reserve Program ground with pollinating flowers in it and they encourage home gardeners to plant more flowers too.
Bees can increase garden and/or crop yields. Some bees can even be rented to perform pollination and the hives are brought to where the crops grow, such as almond trees.