Arlene Sohl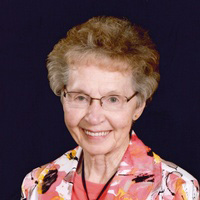 84
Rock Rapids, Iowa
May 24, 2018
Arlene Sohl, 84, of Rock Rapids, Iowa, died Thursday, May 24, 2018, at Rock Rapids Health Centre.
Funeral services were Tuesday, May 29, at St. Paul Lutheran Church, Hull, Iowa, with interment in the church cemetery.
Arlene M. Techen was born Aug. 17, 1933, near Hull, Iowa, daughter of Arlie and Ella (Breuer) Techen.  Later the family moved to a farm just east of Doon, Iowa. She graduated from Doon High School in 1951 and began working as a telephone operator in Sheldon, Iowa.
On Oct. 5, 1953, she married Alvin Sohl. They moved to Columbus, Ohio, where she continued to work for the telephone company as a long-distance operator.  In 1955, they returned to northwest Iowa where they farmed near George, Iowa, and Rock Rapids, Iowa, 30 years, then retired to Rock Rapids in 1995. After retiring from farm life, she began working in food services at Merrill Pioneer Community Hospital until retiring 10 years later.
Survivors include a son, Brian Sohl of Omaha, Nebraska; one sister, Elaine (Kenneth) Sohl of Rock Rapids; four brothers-in-law, Reuben Winter of Sheldon, Robert (Verna) Sohl of Tulsa, Oklahoma, Harold (Darlene) Sohl of Seattle, Washington, and Lawrence (Kathleen) Sohl of Hull; three sisters-in-law, Marlene Techen of George, Shirley Techen of Sheldon and Karen Sohl of Peru, Illinois; and many nieces, nephews and other extended family.
She was preceded in death by her husband; parents; a son, Kevin Sohl; two brothers, Arnold and Eldon Techen; one sister, Louise Winter; parents-in-law, Paul and Elise Sohl, and brother-in-law, Don Sohl.