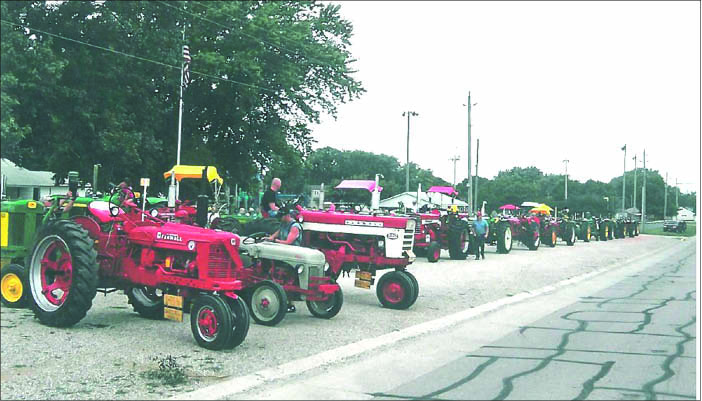 Boyden residents will receive a special treat on Friday when 35-40 antique tractors will arrive in the city and riders will stay for lunch. Merne Haack of Sanborn is in charge of the group and explained they've been riding together annually the past 10 years.
The Sanborn Railroad Days Antique Tractor Ride attracts many riders that return every year. "Some of them have never missed," Haack said. The riders are from Sanborn, Sheldon, Boyden, Hull, Sioux Center and Orange City, or from as far away as Algona, Swea City and Pocahontas.
The ride starts at Sanborn around 9 a.m. They stop at Matlock for coffee and cookies, then they'll head to Boyden. Around 11:30 a.m., the group will arrive at Demco Manufacturing for a tour. Then they'll be served a meal around 12:15 p.m. on the Boyden First Reformed Church's parking lot.
Anyone who'd like to check out the antique tractors are welcome to stop by. Restoring the tractors was a lot of work, so they love showing them off, according to Haack.
Around 1 p.m., they'll depart for Ashton. Afternoon coffee will be at Co-op Elevator. After covering about 60-65 miles on the trip, they expect to arrive in Sanborn again around 4:30, nearly eight hours later.
All brands of tractors are featured on the ride. "Anything anybody's got," Haack explained. The tractors are mainly models of the 1940s, 50s and 60s, with the majority ranging in the 50s. They move slowly — 12 miles an hour — but it gives them time to enjoy the scenery.
Cabs are not typical of antique tractors, so they're not allowed. "You're going to weather the heat just like everybody else," Haack explained. They've never had to reschedule the ride. "We just hope for the best," Haack laughed. If it rains, "We get wet!" Rain has only dampened their ride once in 10 years. The sun came out and dried them out soon afterwards.
Haack has his own tractors. "I restored about 15 to 16 of them. I've sold some of them," he said. He still has five tractors and often loans them to his brothers, sons or a neighbor. His brother, Perry from Boyden, usually drives one, but he'll be busy feeding people at the church this time.
Haack became interested in tractor rides while living in Swea City. "So when I came to Sanborn, I decided we're going to have a tractor ride," he said, and he began organizing them."I do get the (Sanborn) Park Board to help with the registrations on the day of the ride and I give them the excess proceeds to be used for playground equipment," Haack said. The fee includes the coffee and meal at all three stops, including the one in Boyden.