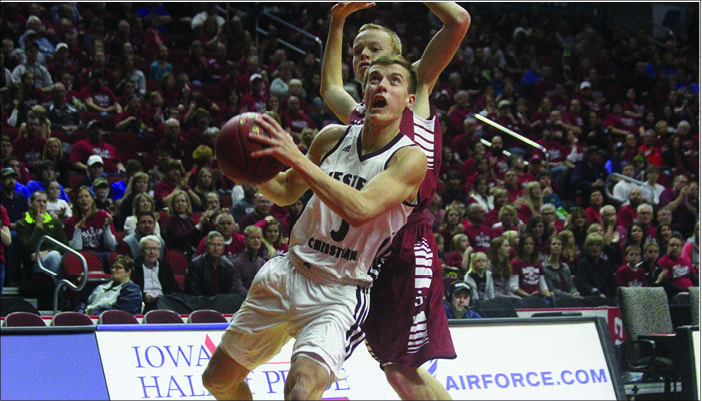 DES MOINES-It was a familiar sight for top-ranked Western Christian boys as they trailed once again in a tournament basketball game. This time the stage was the Class 2A state quarterfinal against South Hamilton-Jewel Monday, March 6, and the Wolfpack trailed 27-11 at one point. But like previous tournament games, Western Christian did not panic and came back to defeat the Hawks 53-47.
The Wolfpack's game plan coming in was to hold Collin Hill and his younger brother, Conner Hill, below their season averages. Collin was the top scorer for South Hamilton-Jewel with a 22.4 points-per-game average and Conner was the third-leading scorer with an average 11.5 points per contest. In the end, Western Christian got that part of the equation solved, holding the Hill brothers to 16 points combined.
"We didn't want any of those Hill guys to get loose. Ben Granstra and Jake (Jacob Vis) did a great job on Collin Hill. They held him to 9. And then Caleb Harmsen and Carter Broek did a really nice job on the other Hill brother and held him to 7. Very happy with that defensive effort," said Western Christian coach Bill Harmsen.
But what the Wolfpack didn't quite factor into their game plan was Marco Balderas, the Hawks' point guard, and he took advantage of that fact. With the game being held at 13-8 in favor of South Hamilton-Jewel midway through the first quarter, Balderas hit a jump shot in the post and grabbed a steal that led to another layup, sparking a 6-0 run. The run quickly ended with two free throws from Colyn Oostenink, but Western Christian found itself down 19-10 heading into the second period.
Balderas got another run started, hitting a basket to start the second frame that ignited an 8-1 run and what would be the Hawks' biggest lead of the game at 27-11. Despite being down by 16, the Wolfpack knew they still had two and a half quarters to come back, and highlighted the West Lyon and Sioux Center games as examples of their team's ability to come back and win late.
"I knew we had total confidence in coming back. Against West Lyon it was a close game and against Sioux Center it was a close game. So that all prepared us well," said senior guard Tyson Kooima.
That comeback started with 3:49 to go until halftime with senior post Jesse Jansma. He scored 7 of the final 12 points of the half for the Wolfpack, resulting in a 29-23 Western Christian deficit at halftime.
"I knew we had to be aggressive and take the ball to the hoop. My teammates did a great job of giving me the ball where I needed to. We all kind of came together to make a push," Jansma said. "For me I think it was just being able to go to the basket. Collin Hill had a ton of blocked shots (41 on the season coming into the game), so he just kept jumping up. I knew I had to get him up in the air, jump into him and try to get a foul. That's what I did."
Western Christian continued to go to that strategy as Jansma hit four-straight free throws to trim the deficit to 2 at 29-27 with 6:36 left in the third quarter. The Hawks countered with an 8-2 run to increase its lead back to 8 at 37-29, but a layup and a 3-point basket by Jansma helped trim the deficit back to 1 at 38-37. After a free throw by South Hamilton-Jewel, Jansma hit two-straight baskets at the end of the period to give Western Christian a 42-39 advantage with eight minutes to play.
"It was a good matchup and we could tell he (Jansma) was starting to feel it a little bit. It was a good time to go to him," coach Harmsen said. "At the mid-quarter intermission I told the guys to keep going, that we weren't going to slow down here."
The Hawks began the fourth with a layup, trimming the Wolfpack lead back to 1 at 42-41. But that ended up being all the closer South Hamilton-Jewel would get. Granstra hit a free throw and Vis threw down a dunk as part of a 7-2 rally and a 49-42 lead for Western Christian with over 2:00 left in the game. The Hawks got back to within 5 at 49-44, but the Wolfpack began to slow their offense down to force South Hamilton-Jewel to foul them and send Western Christian to the free-throw line. Harmsen and Kooima combined to go 4-for-4 from the stripe down the stretch to send the Wolfpack to the state semi-final game against Comanche.
Coach Harmsen said the adjustments made after the first half helped.
"They (the Hawks) are so handsy and we just got the ball into bad spots. So instead of taking it out and holding it (in the third quarter), we decided to go at them and score again. That worked out well," he said. "Jake (Vis) had a big basket and Caleb (Harmsen) had a big layup and we were able to get to the free-throw line. But I think we leaned something about our team tonight."
Jansma also noted the defense on Balderas also improved. Balderas had 6 points following the first half and 7 in the second half.
"He's quick. He's a pretty good shooter but when he faked, we made sure we didn't jump. Unfortunately, we jumped and that's how he got by us in the first. We made sure we tried to keep him in front and that's the best we could do," Jansma said.
Despite the comeback, the Wolfpack do not want to turn a game like this into habit.
"I think it (being able to come back) gives us a lot of momentum. All I know is that we're going to have to get our guys ready to play in the first quarter and not the end of the second quarter," Kooima said.
"We kind of challenged them in the locker room afterwards and said, 'Hey, let's try to get four.' In the state semi-final game you can't show up and play two and a half," coach Harmsen said. "We'll go back to the drawing board and try to figure it out, but we'll be alright."
Western Christian finished the game going 16-of-44 from the field for 36 percent and was 4-of-15 for 27 percent from the 3-point line. The Wolfpack also shot 17-of-26 for 65 percent from the free-throw line. Individually, Jansma led Western Christian in scoring with 25 points. Kooima was the other Wolfpack in double figures with 12.
Individual statistics
Points:Jesse Jansma 25, Tyson Kooima 12, Caleb Harmsen 4, Jacob Vis 4, Ben Granstra 3, Colyn Oostenink 2, Carter Broek 2, Ben Gesink 1
Rebounds:Jacob Vis 11, Tyson Kooima 9, Jesse Jansma 4, Ben Gesink 3, Ben Granstra 2, Colyn Oostenink 2
Assists:Tyson Kooima 2, Carter Broek 2, Caleb Harmsen 1, Ben Gesink 1, Jacob Vis 1
Steals:Ben Gesink 2, Ben Granstra 2, Caleb Harmsen 1, Jesse Jansma 1, Jacob Vis 1
Blocks:Tyson Kooima 2, Jacob Vis 2, Ben Gesink 1, Jesse Jansma 1