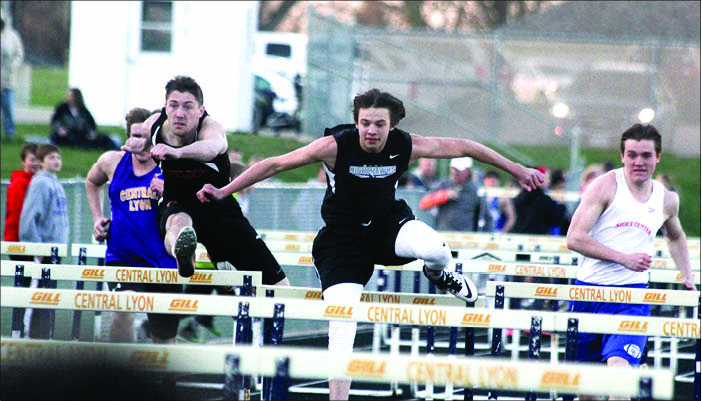 ROCK RAPIDS-The Boyden-Hull/Rock Valley girls' and boys' track teams had another year at the Central Lyon relays where it had kids missing due to state FFA but once again the Nighthawks' depth came through Tuesday, April 11.
The Boyden-Hull/Rock Valley girls finished as the fourth-best team with 99 points as Sioux Center took the meet title with 132 points. The Nighthawks got off to a fast start in the field events with Cassie Van Beek taking individual titles for the second meet in a row in the shot put, high jump and discus throws. But adding to those early points were Kaitlyn Vander Zwaag and Brittany Rus. Vander Zwaag placed fourth in the shot put with a toss of 32'8" and Rus took third in the long jump with a leap of 14'5".
"Cassie did a great job again, but it was nice to get those other girls to do well too. Brittany jumped her personal best and Kaitlyn threw her personal best. Being able to throw personal bests results in us scoring a lot of points," said Nighthawks girls' coach Wade Vander Maten.
Sydney Damstra kept the ball rolling, claiming fourth in the 100 and third in the 200 with Kylie Vermeer taking fifth in the 100-meter hurdles. Adding to the mix were Jillian Dykstra and Mallory Nilles. Dykstra placed fourth in the 400-meter dash and Nilles took fourth in the 800-meter run.
"We had a lot of girls gone due to FFA and other events, so we had to move a lot of girls into different spots and I thought those girls did a good job of competing," Vander Maten said. "Jillian coming in and getting fourth there was good. That was the first time she's run that and that was good to see. Then for both Mallory and Jillian they both ran their personal bests, which is good too because at this time of the year you just want to continue to get better and shave off some time. Both girls did well in that."
The top relay events for Boyden-Hull/Rock Valley were third-place finishes in the 4×100, 4×200 and the distance medley.
"I thought we did pretty well (in the relays). There are still some things to clean up yet, but like I said before, we had a lot of girls try to work off of other different girls. I thought the girls did well adjusting to that and performed well," Vander Maten said.
The Nighthawk boys were in a similar boat, but Boyden-Hull/Rock Valley showed off the same amount of depth by scoring 111 points for second place behind Sheldon who scored 140 points. Two of the top competitors for the Nighthawks were Billy Rankin and Kaden Willemssen taking home gold medals in the 400- and 110-meter hurdles, respectively, while Riley Teunissen finished second in the 200-meter dash. Boyden-Hull/Rock Valley also took home three gold medals in the 4×100, 4×400 and sprint medley relays.
"In this meet we are always a little short-handed because kids are involved in FFA and TSA (Technology Student Association). However, that allows others to step into bigger roles and I thought we competed very well with a shuffled lineup," said Nighthawk boys' coach Brian Moser. "We were certainly glad to be running on Tuesday rather than Monday (the meet was moved from Monday, April 10, to Tuesday, April 11, due to rain and cold) and it turned out to be the best night we've had so far this spring, including practice."
Central Lyon Relays
Girls' team results:1. Sioux Center 132, 2. Sheldon 130.5, 3. Central Lyon 116.5, 4. Boyden-Hull/Rock Valley 99, 5. West Lyon 70, 6. George-Little Rock 26
Boys' team results:1. Sheldon 147, 2. Boyden-Hull/Rock Valley 111, 3. Sioux Center 100, 4. Central Lyon 99, 5. West Lyon 85, 6. George-Little Rock 40
Individual Boyden-Hull/Rock Valley results
Girls' shot put:1. Cassie Van Beek 37'8", 4. Kaitlyn Vander Zwaag 32'8"
Girls' discus:1. Cassie Van Beek 110'7"
Girls' long jump:3. Brittany Rus 14'5"
Girls' high jump:1. Cassie Van Beek 5'2"
Girls' 100-meter dash:4. Sydney Damstra 14.25 seconds
Girls' 200-meter dash:3. Sydney Damstra 29.48 seconds, 4. Kenzie Zomer 30.09
Girls' 400-meter dash:4. Jillian Dykstra 1:12
Girls' 800-meter run:4. Mallory Nilles 2:37
Girls' 100-meter hurdles:5. Kylie Vermeer 18.37 seconds
Girls' 400-meter hurdles:6. Brooke Zylstra 1:20
Girls' 4×100-meter relay:Third place 54.25 seconds
Girls' 4×200-meter relay:Third place 1:59
Girls' 4×800-meter relay:Fourth place 11:57
Girls' sprint medley relay:Fifth place 2:03
Girls' distance medley relay:Third place 4:50
Girls' shuttle hurdle relay:Fifth place 1:17
Boys' discus:6. Brandon Roemeling 125'5"
Boys' long jump: 4. Shane Solberg 18'5"
Boys' high jump:5. Jacob Schafer 5'8"
Boys' 100-meter dash:3. Jacob Schafer 11.94 seconds, 6. Austin Rozeboom 12.52
Boys' 200-meter dash:2. Riley Teunissen 23.72 seconds
Boys' 400-meter dash:1. Billy Rankin 52.64 seconds, 5. Josh Heitritter 57.44
Boys' 1600-meter run:6. Logan Moore 5:20
Boys' 100-meter hurdles:1. Kaden Willemsen 15.71 seconds, 4. Landon Kooiker 17.42
Boys' 400-meter hurdles:3. Zack Vogelzang 1:04, 4. Landon Kooiker 1:05
Boys' 4×100-meter relay:First place 45.8 seconds
Boys' 4×200-meter relay:Third place 1:40
Boys' 4×400-meter relay:First place 3:39
Boys' 4×800-meter relay:Fourth place 8:49
Boys' sprint medley:First place 1:42
Boys' distance medley:Second place 4:01
Boys' shuttle hurdle:Fourth place 1:07