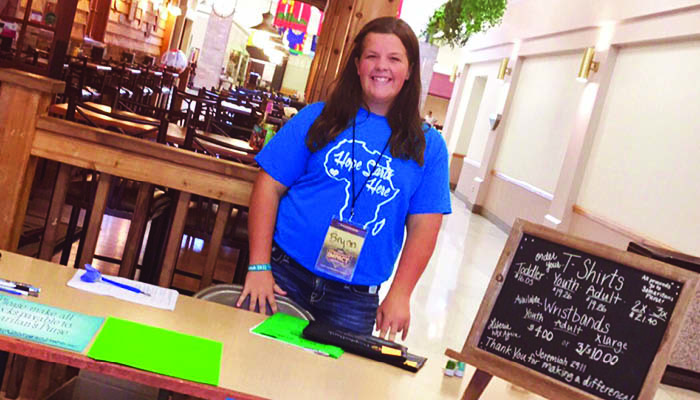 Brynn Van Voorst is only 14 years old but she's already showing a compassion for others that is beyond her age.
The daughter of Mark and Kristie Van Voorst of Hull, she organized a Pizza Ranch tip-night fundraiser last week for two Samaritan's Purse projects in Liberia. The projects support clean water and rebuilding Ebola-affected communities in the west Africa, low-income country. She raised enough money to fund both projects.

"I love Liberia," stated Van Voorst, who will be an eighth-grade student at Boyden-Hull this year. "For the past nine years my parents have been trying to adopt a boy who lives in that country, so Liberia is on our minds a lot. My parents have been to Liberia and saw the way Samaritan's Purse helps the people there. I wanted to do something to give back to them."

Through the adoption process, the Van Voorst family met Joni Byker, a young woman from Sioux Center who is the co-director of Samaritan's Purse in Liberia. When Byker is back in Iowa, she spends time with the Van Voorsts.

"When Joni comes home, I ask her about the needs of Liberia, projects that Samaritan's Purse has going on and how I can pray for them," explained Van Voorst. "She's spoken to our GEMS group and told us about a young lady who was kicked out of her home because she became a Christian. So the GEMS girls collected money to help that lady."

Van Voorst has incorporated her love for Liberia into school projects and also has a pen pal, Grace, who lives in an orphanage in Monrovia, Liberia.

But she wanted to do more.

"They have so many needs and I wanted to help," she stated. "I've been really thinking and praying about this and finally I felt that God was leading me to raise money for two projects Samaritan's Purse is involved in."

One is the Clean Water Project which purchases new hand pumps, fixes old ones, digs new wells, rehabilitates old wells and installs spring protection boxes. The cost to dig a new well is around $2,500.

The other project is called RECAL — Rebuilding Ebola-ffected Communities through Agriculture and Livelihoods.

"Once we reach our goal of one new well, any remaining funds will help purchase chickens, sheep, goats, vegetable seed and equipment to set up bee hives for families and villages," explained Van Voorst.

She also ordered bracelets and T-shirts to sell at tip night. "The wrist bands are $4 or three for $10, and the T-shirts are $18 for adults and $15 for toddlers. I'll still be selling them after the tip night. Anybody who wants one can contact me."

"The wrist bands are a good reminder to pray for Samaritan's Purse and all the work they do," she added.